Textile kits, including the Bateman Books, are available to HGA Members for a modest rental fee. These kits are ideal for personal use or for guild programs and may be borrowed for a maximum of 30 days. Reservations may be made online and rental and shipping fees must be paid at the time of your reservation.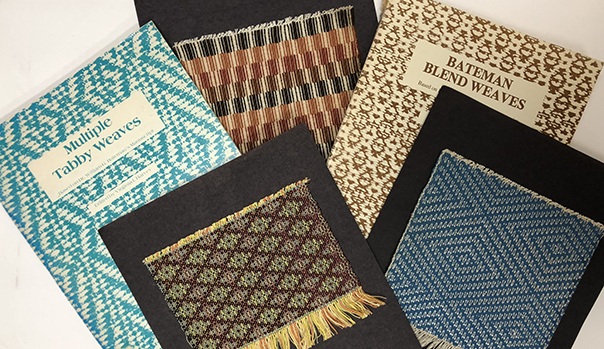 2021 Handwoven Kitchen Towel Exchange
sponsorship available - email HGA@WeaveSpinDye.org
HGA Individual, Family, Student and Professional Artists members are invited to participate in a weaving exchange and increase your handwoven towel stash. Participants will each send five towels and will receive five wonderful new towels. Not a member? Join today!
Guidelines
Towels must be woven from cotton (unmercerized is preferable for kitchen towels), linen, hemp, bamboo or any combination of these fibers.

Towels should be hemmed (either hand-sewn or machine-sewn).

Wash your towels so that shrinkage has been addressed.

Finished (after washing and hemming) minimum measurements are to be 18" x 25". 

Weave five towels.

Include five (5) printed one-page information sheets with your name, contact information, and the draft for your weaving along with thread samples and sources. There should be one for each towel. Insert each information sheet in a sheet protector to keep it flat and neat while shipping.

Email a digital copy of your information sheet to the exchange administrator (to compile a complete listing of all towels entered). Instructions will be emailed with your registration confirmation.

Ship your towels beginning August 1, 2021. Towels must be received by the exchange administrator no later than August 31, 2021. Instructions for mailing will be emailed with your registration confirmation.

DO NOT MAIL TO HGA.

Your towels will not be received.

Towels will be exchanged and shipped by September 30, 2021.
Participant Requirements
Current HGA Student, Individual, Family or Professional Artist Membership. Not a member? Join today!

Participant fee of $20 to cover return priority-mail shipping (international participants will have their towels returned via first class mail) and administrative fees.
Community (Optional)
Participants will be invited by email to join the Facebook group for the 2021 exchange so you can share and communicate with each other.