Careers in Textiles Symposium
What is a Career in Textiles? HGA's two-day online symposium spotlights leading professional and industry trend setters, sharing their experiences and providing insights on the diverse and changing landscape of textiles and fiber art. The symposium is open to all, but is geared toward young professionals, recent graduates, and students.
March 18, 2022, Day 1:
Representing different areas within the textiles career field, HGA's invited speakers will share their knowledge and enlighten attendees to potential opportunities in the field.
9:00 - 10:00 am               Discussion Room Open
10:00 - 10:15 am              Opening remarks: Elizabeth Williamson, HGA Executive Director, and Mark Grigalunas, HGA Board of Directors
10:15 - 11:15 am              Session #1: Jeff Barton, It all has to start with yarn …how it's made and where it comes from.
11:15 - 11:30 am              Break
11:30 am - 12:30 pm       Session #2: Lori Weitzner, Once you have the yarn …you need a designer to come up with a concept, fabric structure, color, etc.
12:30 - 1:30 pm                 Speed Networking or Lunch Break
1:30 - 2:30 pm                   Session #3: Brian Burke, Once the yarn has been acquired, and fabric concepts designed, then you need a mill to weave the fabric.
2:30 - 2:45 pm                   Break
2:45 - 3:45 pm                   Session #4: Dorothy Cosonas, Discussing design and her career in contract textiles from inspiration to product launch.
3:45 - 4:00 pm                   Break
4:00 - 5:00 pm                   Session #5: Kerry Joyce, A fabric distributor who has specific design concepts but is also a highly respected "Interior Designer".
5:00 - 5:15 pm                   Concluding remarks: Elizabeth Williamson, HGA Executive Director, and Mark Grigalunas, HGA Board of Directors
         5:00 - 6:00 pm                   Discussion Room Open
March 19, 2022, Day 2:
Preparing for a career in textiles, schools and universities will share information on their textile design and fiber art programs, and professionals in the field will provide guidance and critique with Open Portfolio sessions.
9:00 - 10:00 am         Discussion Room Open
Fiber Art Program Presentations:
| | | |
| --- | --- | --- |
| 10:00 - 11:00 am | ● | Jefferson University |
| | ● | Fashion Institute of Technology |
| | ● | Haywood Community College |
| | ● | Maine College of Art and Design |
| | | |
| 11:15 am - 12:15 pm | ● | Kent State University |
| | ● | College for Creative Studies |
| | ● | Parsons/The New School |
| | ● | University of North Georgia - Dahlonega |
12:15 - 1:15 pm       Speed Networking
1:15 - 1:30 pm         Artist Residencies in the Elementary School System
1:30 - 2:30 pm         Discussion Room Open
Please note, scheduled speakers are subject to change.
Registration Costs:
$ 0 - Students & all HGA Members (donations are encouraged)
Separate registration is required to participate in Open Portfolio.
Members, when registering, you must first login to 

My Account

 or you will not receive the Member rate.
 Not a member?
 Join Today.
 For assistance please call (678) 730-0010 Monday-Thursday, 9 AM - 5 PM ET.
Meet our Careers In Textiles Presenters
Friday, March 18
10:00 - 11:15 AM
Jeff Barton
Jeff Barton is the owner of Bishop & Co. Inc., the largest sales yarn company in the Northeast. The company was founded in 1968 and originally traded in cotton and wool yarns, all domestically produced. Over the years they have partnered with the world's leading spinning mills. They now specialize in alpaca, mohair, silk, wool, linen, Egyptian cotton and assorted novelty yarns. Their customer base includes upholstery weavers, hand knitting distributors, braiders, and hand weavers.
Friday, March 18
11:30 AM - 12:30 PM
Lori Weitzner
Lori Weitzner, Principal and Creative Director of Lori Weitzner Design is internationally known for her contributions to the world of textiles, wallcoverings, rugs, passementerie, stone, bedding, and other products for interiors and gifting. Her work is in the permanent collections of museums such as the Cooper- Hewitt in New York and The Victoria Albert in London. She is the recipient of more than thirty prestigious design awards, and her work is featured regularly in the media, through Elle Décor, Architectural Digest, and The New York Times. She recently authored her first book, Ode to Color: The Ten Essential Palettes for Living and Design, published by Harper Collins, and lectures around the world on the effects of color on our well being.
Weitzner recently launched her first collection of textile infused jewelry and accessories under her own name. Each piece, uniquely handmade, has allowed Weitzner to help preserve the work of craftsmen for the modern world.
Friday, March 18
1:30 - 2:30 PM
Brian Burke's broad range of experience encompasses many facets of business management including operations oversight, strategic supply chain sourcing, production planning and product development. Most recently he was Director of Operations for Glen Raven Custom Fabrics LLC in Sunbury, Pennsylvania weaving Sunbrella branded fabrics. Prior to that he served as Vice President of Operations for Sunbury Textile Mills weaving varied fabric constructions sold to the decorative and contract markets. Burke's career path exposed him to routine interaction with customers, supply-chain vendors and designers in Quality Assurance and Product Development decision making specifications.
Friday, March 18
2:45 - 3:45 PM
Dorothy Cosonas developed an interest in design at a young age — her mother was an accomplished calligrapher and architectural renderer, and her grandfather was a painter and fabric merchant. Her passions led her to pursue degrees in both fine arts and textile design from the Fashion Institute of Technology (FIT) in New York. While still in school, she interned at Unika Vaev, a contract textile firm directed by distinguished textile designer Sina Pearson. Under Pearson, she continued to develop her own unique design point of view and in 1994 she became the company's Director of Design. In 2005, Dorothy was named the 11th Creative Director of KnollTextiles and remained in that role as not only the longest running but also the final director coinciding with the merger of MillerKnoll in 2021. Her inaugural collection won a Best of NeoCon Gold - her first in a long line of awards. In 2008 she founded KnollLuxe as the fashion forward component of KnollTextiles where she has contributed her own work as well as collaborating with fashion designers such as Proenza Schouler, Rodarte, and Maria Cornejo. Her work is highly influenced by her passion for fine art and international fashion. Devoted to modern design, Cosonas is known for combining clean, clear color with elegant patterns and textures. In 2016 she received the IIDA Titan award for her career contributions to the interior design profession. When the Cooper-Hewitt National Design Museum selected fabrics for their Permanent Collection Matilda McQuaid, deputy curatorial director and head of textiles at the museum said: "Seven pieces at one time is a substantial number to be selected, but when possible, we like to collect in depth when the designer's work exhibits the quality of Dorothy's".
Friday, March 18
4:00 - 5:15 PM
Kerry Joyce Associates, celebrated for their interiors, architecture, product and textiles design, the Los Angeles-based firm embodies a passion for timeless design and flawless execution.  Led by one of the country's most celebrated designers, the firm's various projects have received notable acclaim and articulate a unique and unparalleled design sense, seamlessly marrying fine materials, clean lines, and sophisticated textures, emboldened by a quiet touch of glamour. The work of Kerry Joyce spans a variety of aesthetics – always imaginative, refined, and exquisite. A testament to his impeccable design sense, Joyce has received numerous awards and honors from some of the most highly regarded organizations in design and entertainment, and notably, won an Emmy Award for set decoration.  Most recently he was honored with the coveted 1stDibs 50 award, Elle Decor A-list Award as one of the best designers in America, The Hollywood Reporter's Interior Design Hall of Fame Award, and California Home & Design Magazine's Master of Design Award.  His passion for textile design was recognized when his eponymous fabric company received the American Design Award for Textiles by Elle Decor. His handsome book featuring his many design disciplines, Kerry Joyce / The Intangible was published in 2018 by Pointed Leaf Press.
Fiber Art Programs
These universities offer programs of study in the fiber arts.
Click here to add your university or college's fiber art/textile program.
Please Note: This listing is provided as a courtesy. It is not a complete listing nor is it an endorsement of any individual or organization listed. The information was provided by the organization or its representative. HGA does not warrant the accuracy or validity of the information, and hereby disclaims any liability to any person for any loss or damage caused by errors or omissions.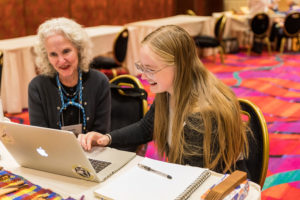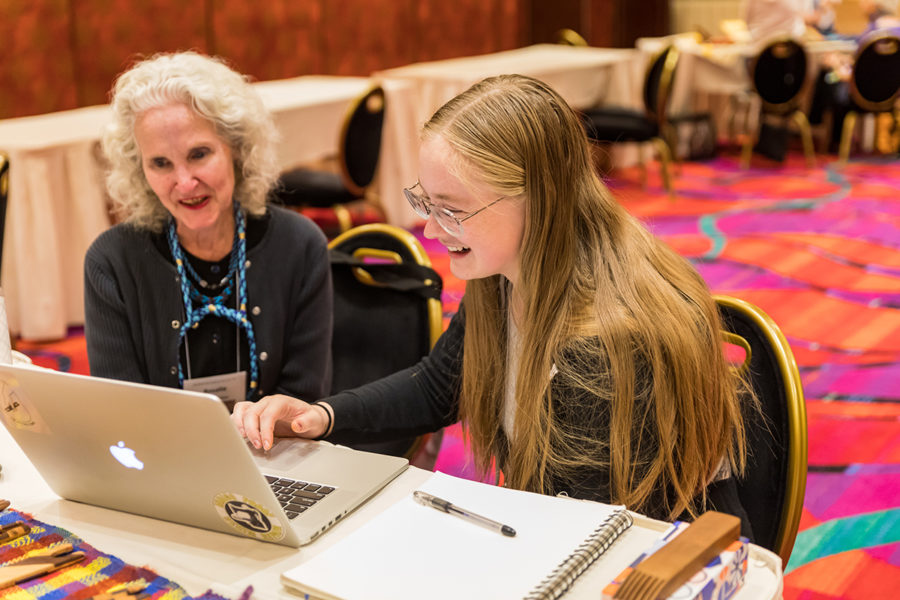 Open Portfolio
Open Portfolio is designed to provide constructive feedback to new and established fiber artists looking to grow their skills while serving as a learning opportunity for observers. Each participant will meet with three professional fiber artists to critique and discuss their portfolio. For more information call (678) 730-0010.