The HGA Award honors outstanding exhibited works of fiber art which clearly demonstrate excellence, specifically: handweaving, handspinning, dyeing, basketry, felting, and related fiber arts.
HGA Affiliate Guild Members and HGA Professional Organization Members sponsoring or hosting a fiber art exhibit may request an HGA Award to honor outstanding exhibited works of fiber art which fit the award criteria.
The HGA Award includes a certificate of accomplishment and a handwoven ribbon. Award winners will have their work published in Shuttle Spindle & Dyepot, HGA's quarterly member magazine, so it may be appreciated by our international readership of fiber artists, enthusiasts, and collectors.
HGA Award Application
HGA Award Digital Publicity Permission Form
Eligibility Requirements and Exhibit Criteria
Exhibitions must be sponsored or hosted by an HGA Affiliate Guild Member or an HGA Professional Organization Member.
Exhibitions or fashion shows must be juried.
In the case of textile conferences, the juried for acceptance requisite may be waived, provided entries are judged for awards at the conference.
Fashion shows may entail a runway component but must be hung for public display.
Mixed media shows must include an appreciable number of fiber art pieces.
State Fairs or Provincial exhibits must provide an Arts Gallery for the juried show.
Exhibit must be open to the public for a minimum of one day or be part of a textile conference.
The award is not available for demonstrations or contests.
Award requests must be made at least three months (90 days) before the date of the exhibit.
If no entry meets the outlined criteria, the HGA Award must be returned to the HGA office.
Winners must submit digital image of winning entry with the HGA Award Digital Publicity Permission Form.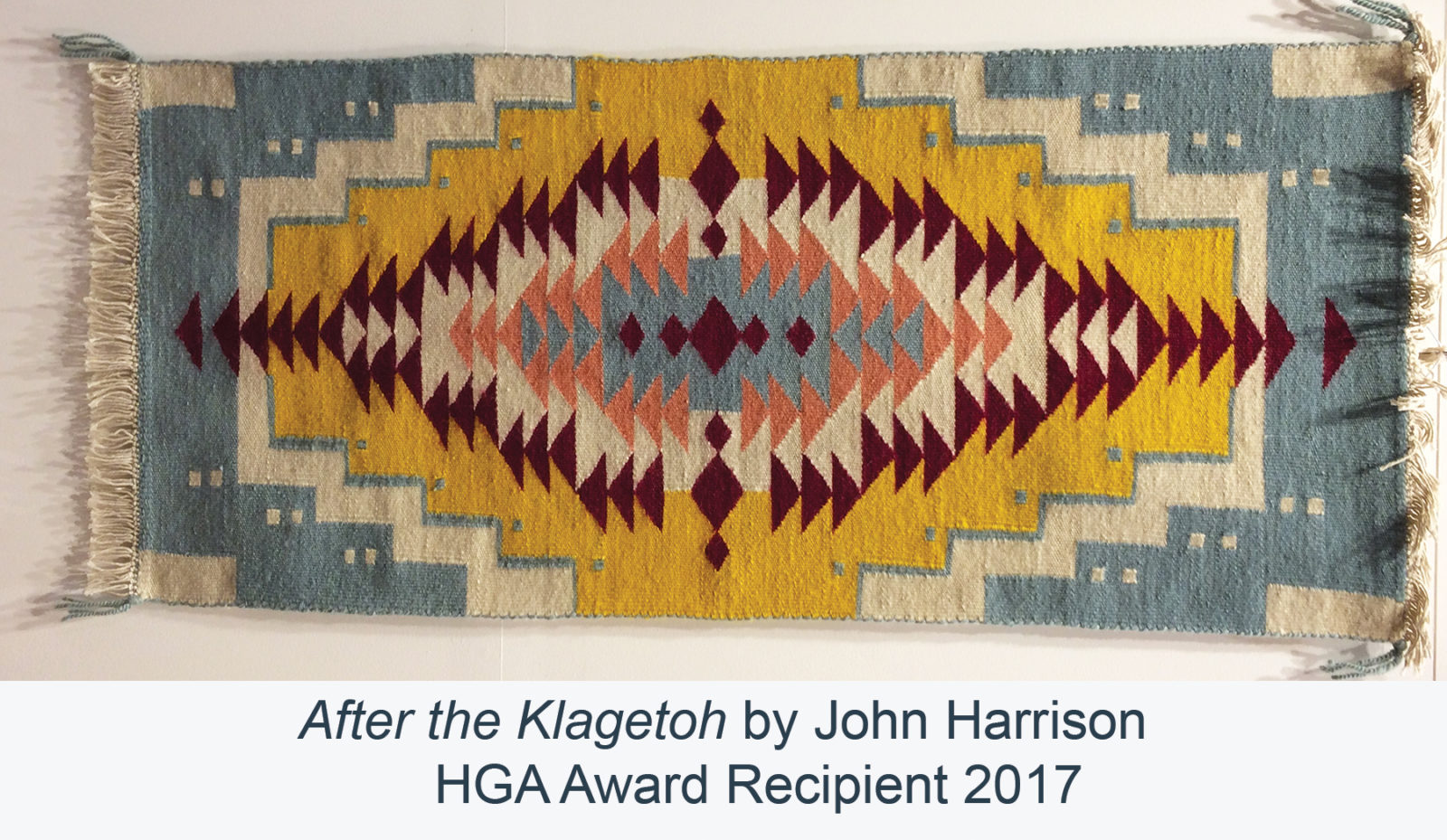 Award Criteria
Must be limited to a work of handweaving, spinning, basketry, dyeing, or related fiber arts.

Must embody a unique interpretation; demonstrate a fresh, individual approach, and express personal creativity.

Must exemplify a complete understanding of both aesthetic and functional considerations.

Must demonstrate excellence in technical skills.