With something of interest for everyone from the beginner to the expert, choose from more than 100 Sessions taught by innovative Fiber Art Leaders. Sessions vary from 90 minute seminars to three day workshops and include topics on weaving, spinning, dyeing, basket making, felting, sewing, professional development and more.
Sessions
A full schedule of available Sessions will be posted Summer 2019.
Leaders
Leaders will be posted Summer 2019.
Registration Information
Register early! Sessions fill quickly!
Create a conference schedule that meets your needs. Attendees may pick and choose the conference Sessions and Events they wish to attend – and register for each one individually. You will find pricing on the starting page of each section.
Purchase a Convergence® Value Package and Save! The Convergence Value Package (CVP), available for $235, offers the best pricing on event items and sessions:
25% discount on Session registration fees
1 Ticket to the Fashion Show ($115 value)
1 Ticket to the Keynote Presentation ($70 value)
Daily admission to the Art Exhibits and the Marketplace including the Demonstration Stage activities ($40 value)
1 HGA Tote Bag, sponsored by the John C. Campbell Folk School, and filled with goodies. ($15 value).
How to Register:
Online at WeaveSpinDye.org - The preferred and secure registration method which includes an immediate email confirmation
Phone (678) 730-0010 – Available Monday through Thursday, 12:00 PM – 5:00 PM EST
Convergence® Marketplace, Special Events, and Tours are open to the general public with the purchase of a Day Pass/and or Ticket. CVP's and Session registration is limited to Individual, Family, Student, and Professional Artist members of the Handweavers Guild of America, Inc. All purchases are non-refundable, Sessions are the exception. 
Registration is first-come, first-served and will close June 30, 2020 for Workshops. Meal Plans must be purchased by July 20, 2020. Registration for Seminars, CVP's, Events, Tours, Etc. will continue until Noon the day before their start. Registrations received after July 20, 2020 are based on availability and subject to an additional late fee of $25. Fiber Trust supporters who have given a financial gift of $100 or more in 2019 qualify for Priority Registration. Donate online to the Fiber Trust or call (678) 730-0010.
HGA supports our Marketplace vendors by providing a list of registered attendees (includes name, state/province, country, and email address). Your participation supports small fiber art businesses, and your privacy is HGA's first concern. If you wish to not include your name and email address on the list, you may opt out at registration.
Session Fees
Session Descriptions and Fees
Sessions include beginner to advanced instruction in a variety of fiber techniques. An HGA Individual, Family, Student, or Professional Artist Membership is required to register and take a Convergence® Session. Membership may be purchased online or by calling (678) 730-0010. Participants who purchase the Convergence® Value Package (CVP) save 25% on all their sessions. Fees are in US Dollars.
with CVP           without CVP
3-Day Workshops                   $432                      $576
2-Day Workshops                   $288                      $384
1-Day Studios                         $144                      $192
3-Hour Super Seminars          $  72                      $  96
90-Minutes Seminars              $  36                      $  48
Materials Fees: Are payable to the Leader and collected onsite at the beginning of the Session.
Equipment and Loom Rentals: Required special equipment, including Looms, is noted in the Session description and may be available for rent if requested with your registration.
Supplies: Download a complete supply list for all Sessions at WeaveSpinDye.org. Session participants will be contacted by the Leader with instructions prior to Convergence® if their Session requires advanced preparation such as warping a loom.
Wait Lists: Session size is limited by the Leader. If a Session is full you may register on the Wait List. If a space opens, the first person on the Wait List will receive a phone and email notification of the offer to register and will be required to respond within 2 business days or be removed from the Wait List. If the registration is declined or no response is received, the registration will be offered to the next person on the list.
Changes: Sessions may be changed to a Session at an equivalent or higher registration fee if made in writing by April 24, 2020. Changes will incur a $25 administration fee per Session. Sessions may not be changed after April 24, 2020.
Cancellations: Session cancellations must be made in writing by April 24, 2020 and will incur a $50 cancellation fee per Session. Session registration fees are non-refundable for cancellations made after April 24, 2020.
Sessions require a minimum number of participants to run. HGA reserves the right to cancel Sessions if there is insufficient registration. If we must cancel a Session HGA will issue a full refund.
Transfers: Sessions may be transferred to a registered friend or family member if made in writing by July 17, 2020. Transfers will incur a $25 administration fee per Session. The original registrant is responsible for the administration fee and the difference in registration fees if the registrant receiving the Session does not hold a CVP. Sessions may not be transferred after July 17, 2020.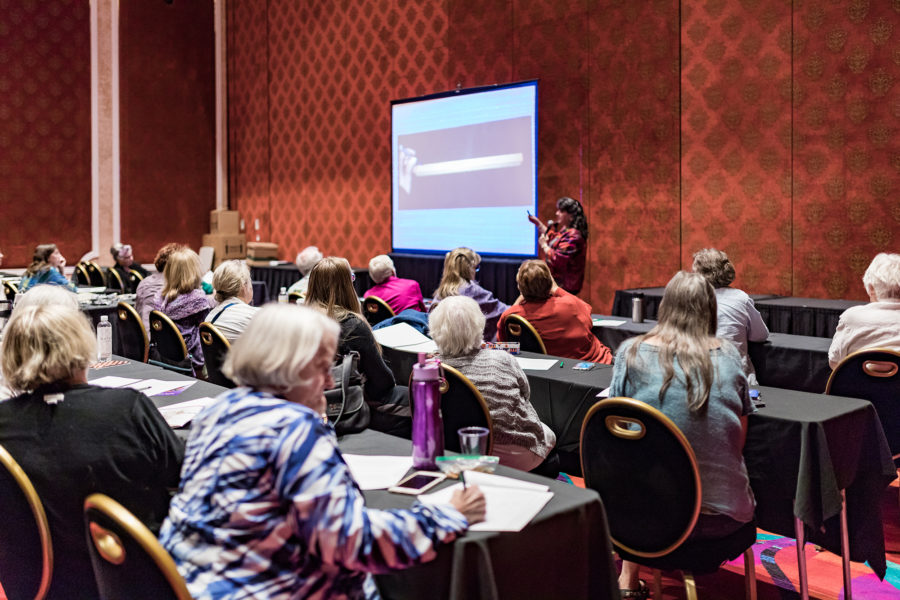 Download Additional Resources
Delegate Registration Book

Leader Biographies

Session Supply Lists