Careers in Textiles Symposium
What is a Career in Textiles? HGA's two-day online symposium spotlights leading professional and industry trend setters, sharing their experiences and providing insights on the diverse and changing landscape of textiles and fiber art. The symposium is open to all, but is geared toward young professionals, recent graduates, and students.
Day 1:
Representing different areas within the textiles career field, HGA's invited speakers will share their knowledge and enlighten attendees to potential opportunities in the field.
10:00 - 10:15 am              Opening remarks: Elizabeth Williamson, HGA Executive Director, and Mark Grigalunas, HGA Board of Directors
10:15 - 11:15 am              Session #1: Greyson Kirby, High-end residential design consultant
11:15 - 11:30 am              Break
11:30 am - 12:30 pm       Session #2: Andrew Curcio, National Sales Manager at Holly Hunt
12:30 - 1:30 pm                 Break for lunch
1:30 - 2:30 pm                   Session #3: Mary Jeanne Packer, Owner of Battenkill Fibers
2:30 - 2:45 pm                   Break
2:45 - 3:45 pm                   Session #4: Eric & Tegan Frisino, Comfortcloth Weaving, Professional Weaver Society
3:45 - 4:00 pm                   Break
4:00 - 5:00 pm                   Session #5: Todd Bowles, Owner of Convergence, a textile design consulting firm
5:00 - 5:15 pm                   Concluding remarks: Elizabeth Williamson, HGA Executive Director, and Mark Grigalunas, HGA Board of Directors
Day 2:
Preparing for a career in textiles, schools and universities will share information on their textile design and fiber art programs, and professionals in the field will provide guidance and critique with Open Portfolio sessions.
| | | |
| --- | --- | --- |
| 10:00 - 11:00 am | ● | Fashion Institute of Technology: Nomi Kleinman, Chairperson/Associate Professor |
| REGISTER | ● | Berea College: Erin Miller, Head of Weaving, and Lisa Kriner, Professor & Chair of Academic Division V |
| | ● | Jefferson University: Becky Flax, Assistant Professor – Textile Design |
| | ● | Parsons, The New School: Preethi Gopinath, Director & Associate Professor |
| | | |
| 11:15 am - 12:15 pm | ● | North Carolina State University: Traci Lamar, Professor and Program Lead |
| REGISTER | ● | Warren Wilson College: Melanie Wilder, Fiber Arts Instructor/Supervisor |
| | ● | Haywood Community College: Amy Putansu, Professional Crafts Instructor |
| | ● | Kent State University: Janice Lessman-Moss, Professor |
Please note, scheduled speakers are subject to change.
Meet our Careers In Textiles Presenters
Friday, March 19
10:00 - 11:15 AM
Greyson Kirby is a designer, artist and writer living in Santa Barbara, California. She serves as a consultant within the high-end residential design industry creating private label collections of textiles and rugs. She developed a strong business acumen and deep understanding of the mechanics of product development working for companies like Ralph Lauren, Moore & Giles, Link and HOLLY HUNT, which allow her to seamlessly weave together the aesthetic goals of her clients with manufacturing sources around the globe and a keen understanding of marketing and distribution to make each product successful. Her passion for balancing the desires of aesthetically-driven designers and the needs of artisanal manufacturers has created a unique career path based on building relationships that focus on creating an ecosystem between makers, designers and consumers.
Friday, March 19
11:30 AM - 12:30 PM
Andrew Curcio went to FIT and received his bachelor's degree in textile development and marketing. He then landed an internship with HOLLY HUNT in 2010. He was then hired to become a top textile sales associate where eventually got offered a promotion in Chicago to lead the design and development team for the soft goods division of the company. After traveling and meeting with the top textile mills in the world he moved back to NYC to lead the sales teams as National Sales Manager. He is now working remotely from his home in Bellport, NY.
Friday, March 19
1:30 - 2:30 PM
Mary Jeanne Packer founded Battenkill Fibers in 2009 to provide value-added, custom carding and spinning services for fiber farms and makers; and to manufacture yarn and fiber products for wholesale and retail markets. The mill produces 100-150 lbs of artisan quality natural-colored and dyed semi-worsted yarn daily using refurbished traditional milling machinery. Since its founding, Battenkill Fibers has grown to provide 15 full-time and part-time jobs and was recognized as Washington County Small Business of the Year in 2015. Mary Jeanne is a co-founder of the non-profit Hudson Valley Textile Project and serves on its board of directors as treasurer. She has a bachelor's degree in engineering from Massachusetts Institute of Technology (MIT); and a masters degree in Communications Management from Syracuse University.
Friday, March 19
2:45 - 3:45 PM
Tegan and Eric Frisino are both hand weavers with a love for fine art. Both graduated from SUNY Buffalo State College and received a Bachelor's of Fine Arts Degree in Design. With Tegan's degree in Textile Design and Eric in Graphic Design and Web Development, they started Comfortcloth Weaving, LLC, in 2016. Comfortcloth Weaving specializes in handwoven home goods, and custom yardage for small scale fashion designers. They also host a podcast that aims to bring professional weavers and the supply chain that supports them together in a transparent conversation about what it is like to make a career out of weaving called "The Professional Weaver Podcast".
Friday, March 19
4:00 - 5:15 PM
Todd Bowles is a graduate of North Carolina State University with a B.S. in Textile Design and a B.S. in Textile Management. He has worked in the textile and home furnishings industry since 1994, and has owned his own textile design consulting firm, Convergence, since 2010. Todd designs a signature collection of residential upholstery fabrics called "Carousel Collection" for De Leo Textiles and has done so since 2014. He has appeared as a guest lecturer and taught a senior level textile design course at NCSU called "Advanced Jacquard Weaving".  He has also been a guest lecturer at North Carolina A&T University.  He has spoken to textile design students for many International Textile Alliance (ITA) student-mentoring programs. Todd has lived and worked in Greensboro, NC since 1999. He is an avid tennis player and hosts a variety of instagram shenanigans: @toddbowlesltd.
Fiber Art Programs
These universities offer programs of study in the fiber arts.
Click here to add your university or college's fiber art/textile program.
Please Note: This listing is provided as a courtesy. It is not a complete listing nor is it an endorsement of any individual or organization listed. The information was provided by the organization or its representative. HGA does not warrant the accuracy or validity of the information, and hereby disclaims any liability to any person for any loss or damage caused by errors or omissions.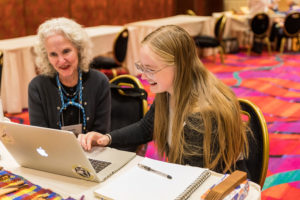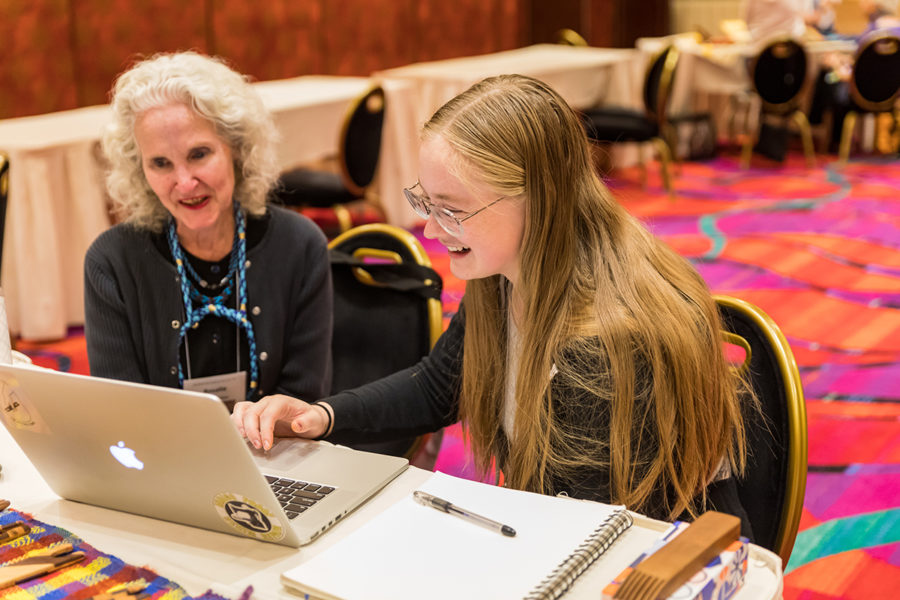 Open Portfolio
Open Portfolio is designed to provide constructive feedback to new and established fiber artists looking to grow their skills while serving as a learning opportunity for observers. Each participant will meet with three professional fiber artists to critique and discuss their portfolio. For more information and to register, visit WeaveSpinDye.org or call (678) 730-0010. 
Open Portfolio is generously sponsored by Mark Grigalunas.