Each week the Handweavers Guild of America, Inc. (HGA) hosts Textiles & Tea, a conversation with some of the most respected fiber artists in the field today. In our 45-minute discussion we focus on their artwork and their creative journey. We allow 15 minutes at the end of our conversation for questions from the audience. Textiles & Tea will take place every Tuesday at 4:00 PM (ET) and is broadcast via Zoom and Facebook Live. These broadcasts are free to view and open to all.
2023 Schedule
Textiles & Tea takes place online every Tuesday, 4:00 - 5:00 PM ET. This program is supported through generous sponsorships and donations.
Click on the date for more information and to register (registration open through January).
Zoom allows up to 1,000 guests to view the program on the platform at any given time. This program is also shared Live on HGA's Facebook page. A link will be provided in the registration confirmation email.
Be a Sponsor & Support Textiles & Tea
Through sponsorship you can reach new audiences and connect with the fiber community in their homes. We know from our Spinning & Weaving Week events that an average of 1,000 people viewed our videos either live or recorded. These numbers will only grow as our event grows in popularity.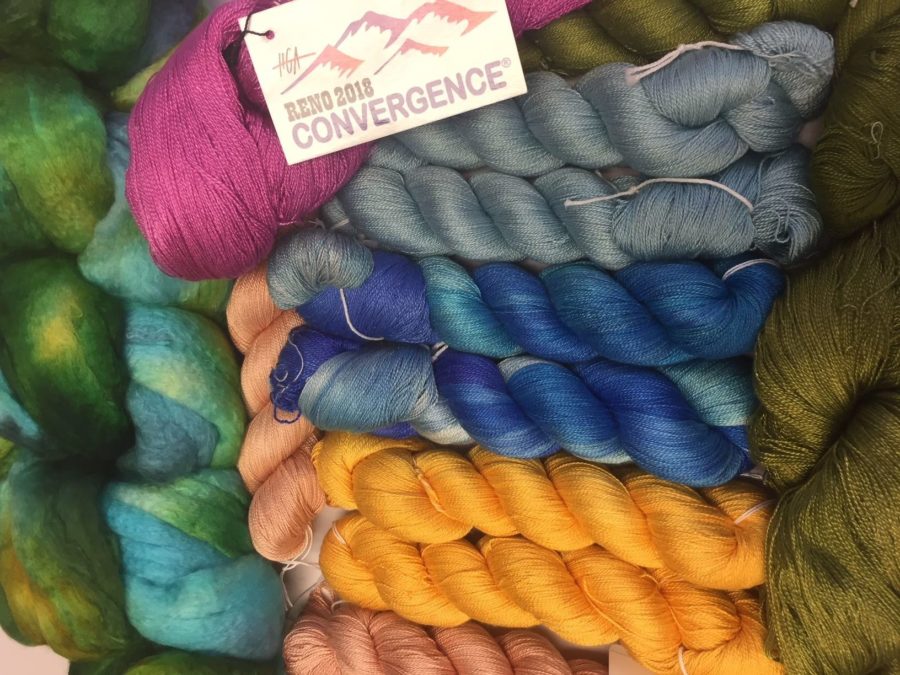 Sponsorship includes:
Recognition at the beginning and end of each broadcast (also to be recorded and shared on Facebook Live and HGA's YouTube channel)

Emails sent to HGA's mailing list of nearly 11,000 promoting the event with you listed as a sponsor and a link to your website

Identified as event sponsor on HGA's website and on the event listing on the HGA Fiber Art Calendar
We are offering introductory sponsorship packages at $150 per Textiles & Tea episode or four episodes for $500 (call HGA for 4-episode discount). Your sponsorship helps HGA to promote the fiber arts and support the artists who create. Will you be a sponsor?
How To Sponsor:
Purchase your sponsorship online or call (678) 730-0010.
For more information contact Kathi Grupp, HGA Advertising & Marketing Manager, at (470) 893-0556 or Advertising@WeaveSpinDye.org. Thank you for your consideration.
Previous Episodes
All episodes of Textiles & Tea are recorded and are available to be watched on HGA's Facebook page and YouTube channel. For more information on previous episodes, click the links below.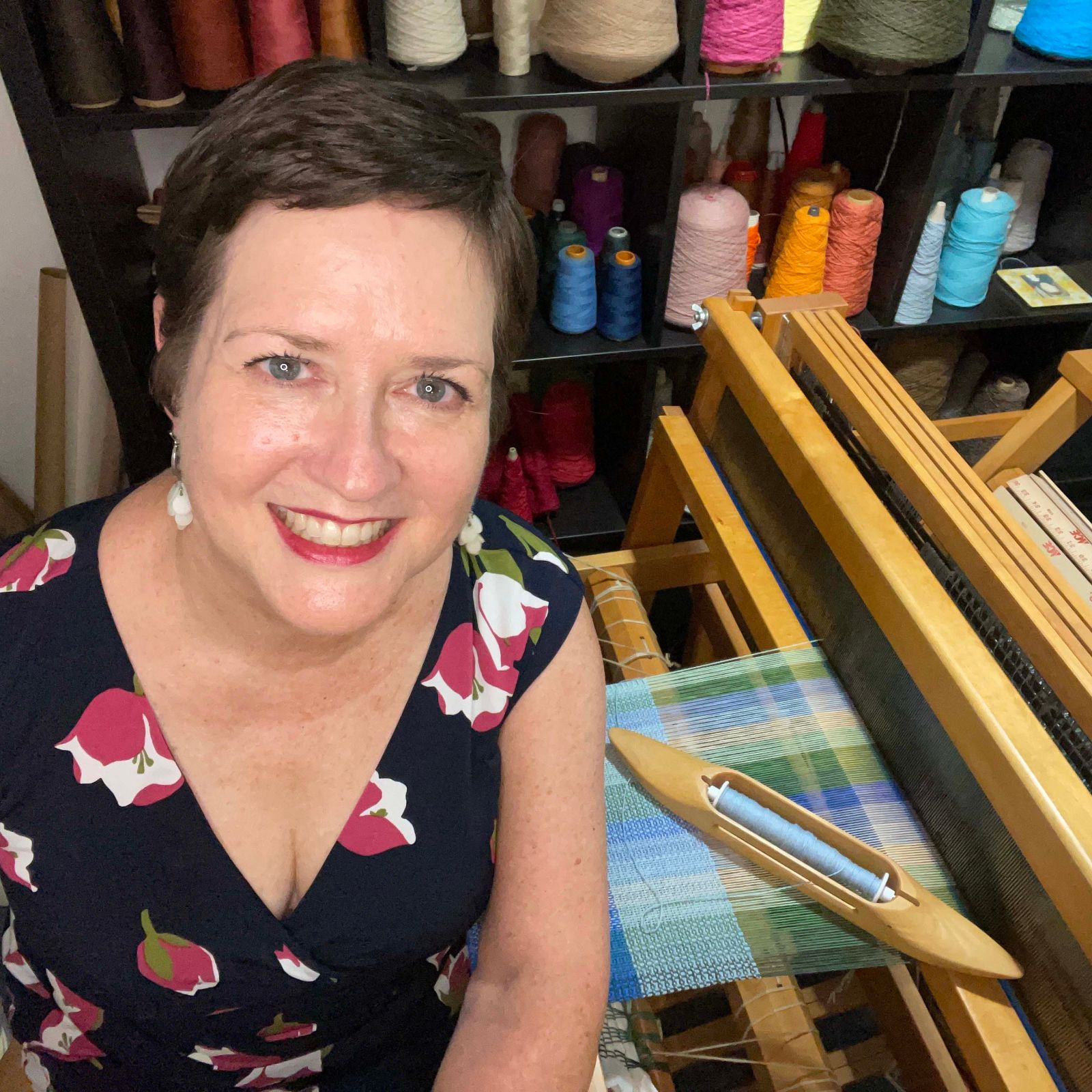 January 3, 2023  |  Chris Acton
generously sponsored by Supporters of Indie Fiber Arts
Chris Acton randomly took a weaving class in 2005 as a way to counteract her boredom with a corporate job in the Chicago suburbs. It was love at first sight. Little did she know, this would be a major turning point in her life. Because of that class, she then left her job, moved to Indiana, and became a full-time weaver. Over the years, she has participated in art fairs all over the country and created hundreds of yards of handwoven fabric that have been transformed into unique handbags and home goods. These days you can find her carving a new path with weaving classes and resources, encouraging people everywhere to give weaving a try.
---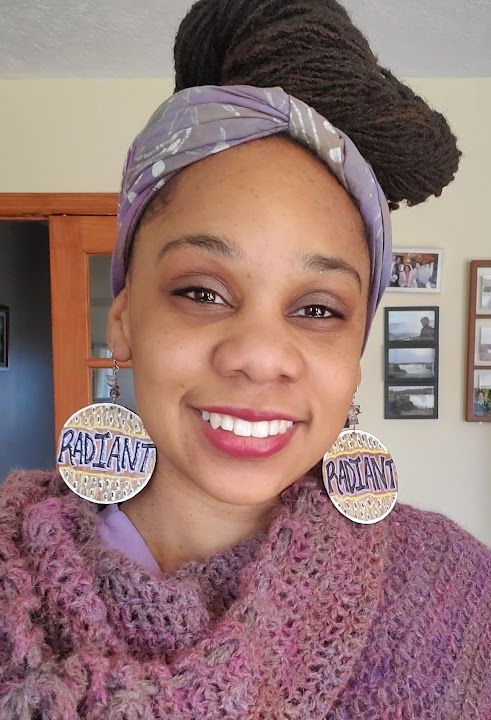 January 10, 2023  |  Melvenea Hodges
generously sponsored by Weavers Guild of the North Shore
Melvenea Hodges is a Fiber Artist residing Indiana. She creates clothing and accessories using traditional techniques such as block printing, sewing, weaving, spinning, knitting, crocheting, and embroidery. In 2006 Melvenea earned a bachelor's in Apparel, Textiles, and Merchandising from Eastern Michigan University.  She was inspired to begin growing, spinning, and weaving cotton to reclaim an undocumented heritage of fiber arts as a Black American maker. Melvenea finds tremendous joy in helping others learn new skills; she teaches at a primary school, and she connects with other textile enthusiasts through community events, social media, and her local weaving guild. Her mission is to honor and preserve our fiber arts heritage through practice. She blogs about her work and traditional textile techniques on her website and on Instagram as Traditionsincloth where she also offers handcrafted accessories and spinning supplies. She has also published articles with SpinOff magazine.
---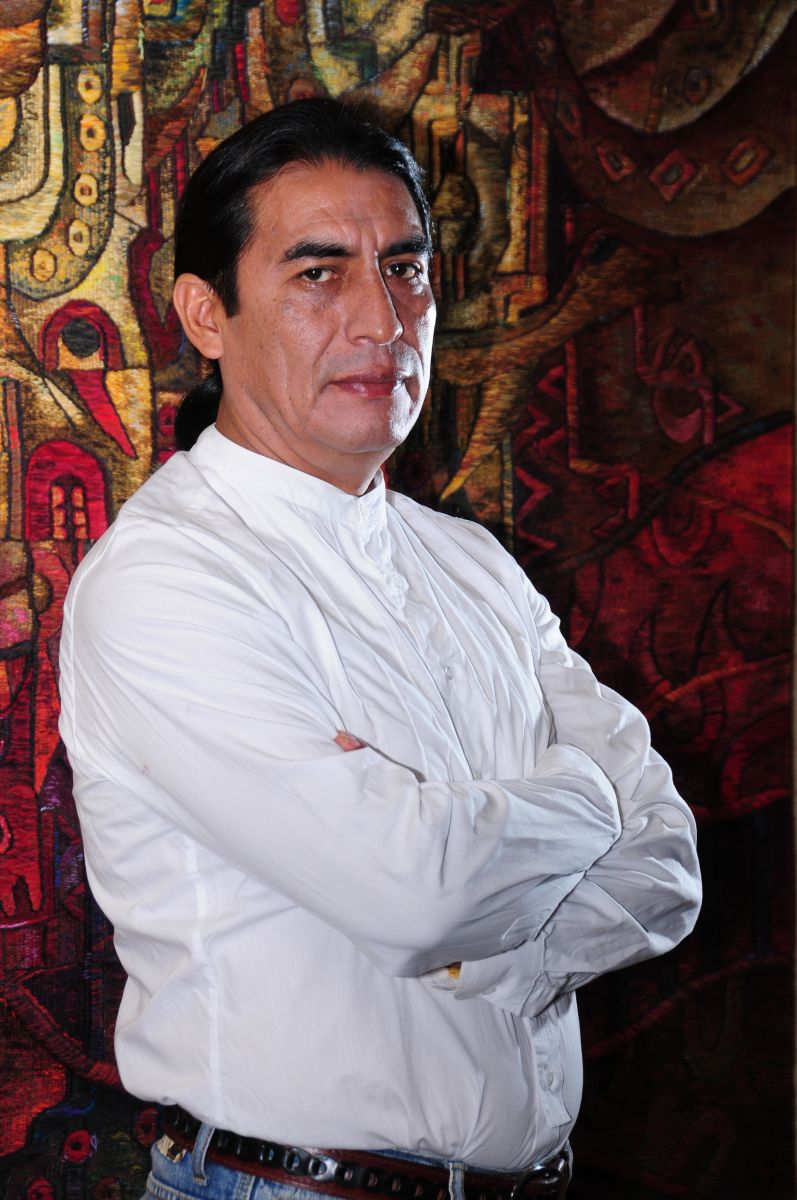 January 17, 2023  |  Máximo Laura
generously sponsored by Weave A Real Peace
Máximo Laura, born in Peru in 1959, is a tapestry weaver, designer, consultant, and lecturer recognized as one of South America's pre-eminent textile artists. His work is featured in collections worldwide and he has exhibited in many museums, art centers and galleries. Laura has won awards in both national and international competitions including a UNESCO Prize for Latin America and the Caribbean, Spain, 1992; Best in Show Award—Latin American Art VIII, USA, 2005; People's Choice Award—Land the tapestry foundation of Victoria, Australia, 2008; Outstanding Award—From Lausanne to Beijing International Fiber Art Biennale, China, 2008, 2010 and 2022; HGA Award—USA, 2009; Award—10th Latin America Sustainable Luxury, 2022, Argentina, among others. He teaches national and international workshops, has a studio in Lima, and opened the Maximo Laura Museum in Cusco in 2014. Máximo Laura was nominated a "National Living Human Treasure" in his native Peru in 2010.
---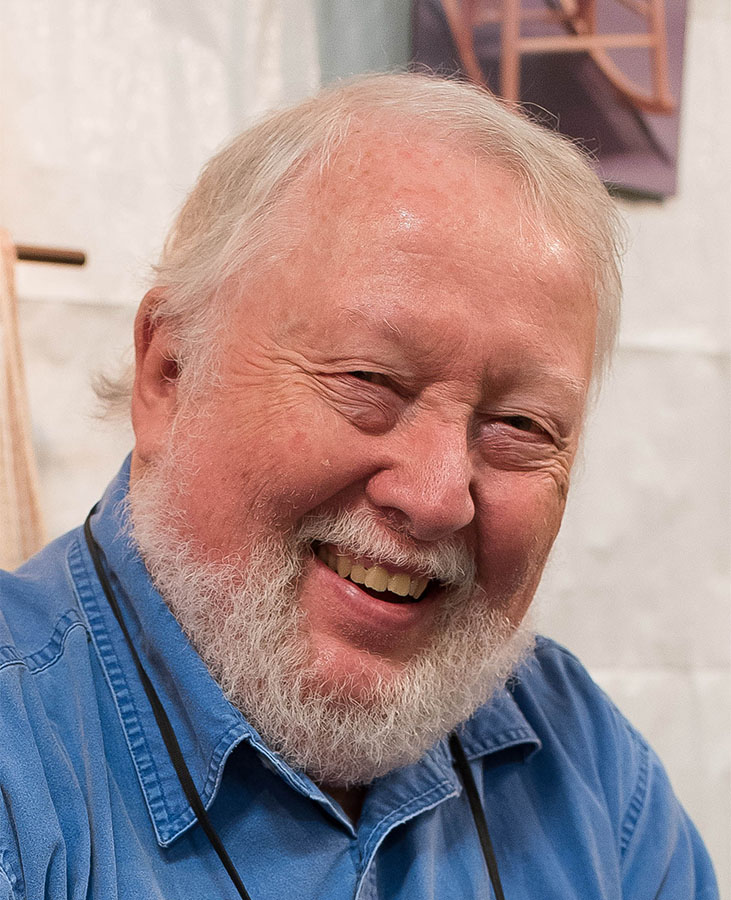 January 24, 2023  |  Walter Turpening
generously sponsored by Myrna Lindstrom
Walter Turpening grew up in Southeastern Michigan, earning degrees in Physics and Geology/Geophysics. In 1972, he began work in oil and gas exploration doing geophysics research, development, and technology support. His wife, Ellen, and he lived in Texas and Pennsylvania from 1977 through 1998 where Walter took woodworking classes from a Pittsburgh furniture maker. In 1998 the couple moved to Kingsport, TN. There, Walter made chairmaking fulltime and set up a small shop. In July 1998, Walter experienced his first national show at the Handweavers Guild of America Convergence in Atlanta, GA. Then, one year Walter vacationed in the Southern Appalachians and saw Shaker and rush woven chairs. Inspired, Walter began teaching himself how to weave seats with commercial braided cord with Ellen teaching him weaving patterns and color blending. In 2003, Walther tried hand dyeing commercial cord and later taught himself how to braid cord. Today, two apprentices have joined Walter.
---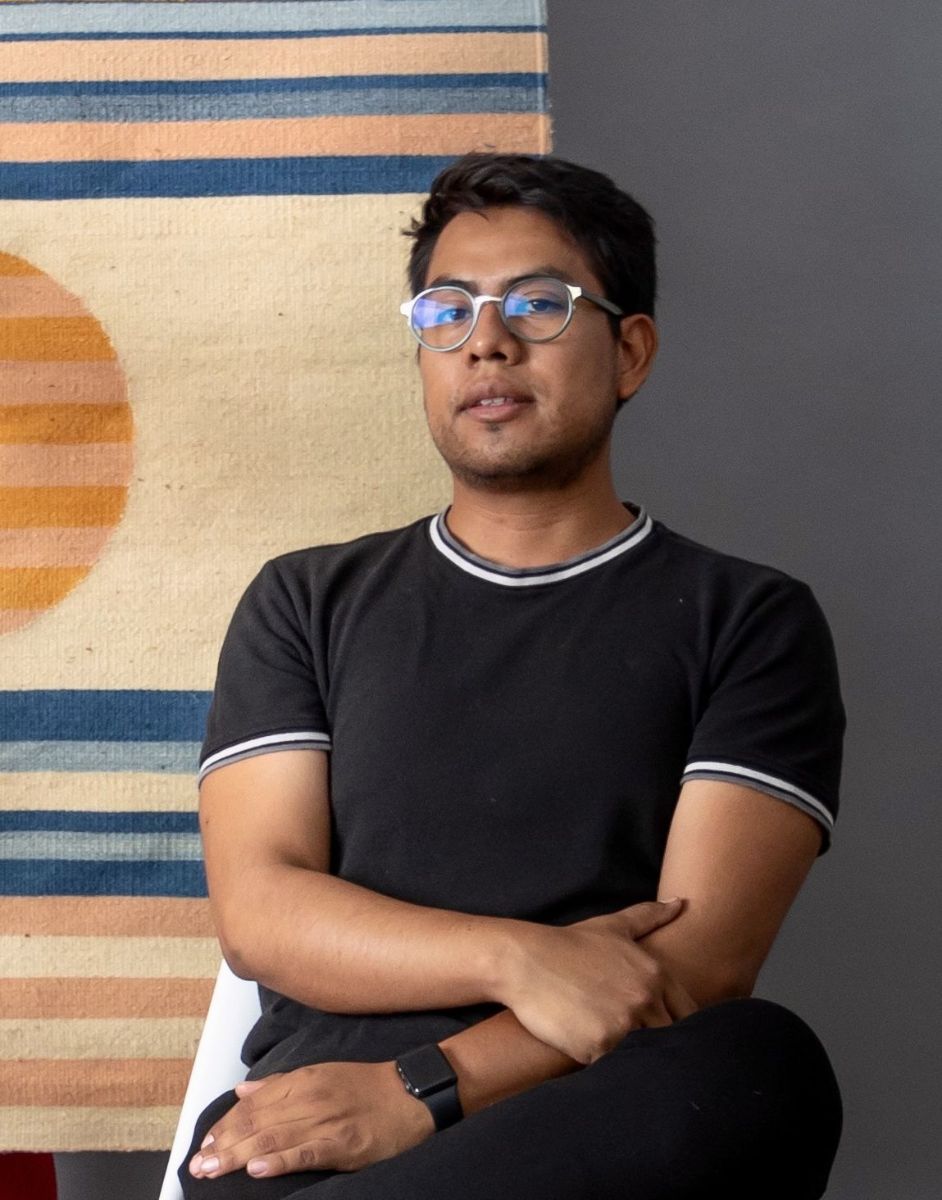 January 31, 2023  | Omar Chávez Santiago
generously sponsored by Weave A Real Peace
Originally from Teotitlán del Valle, Oaxaca, Mexico, Omar Chávez Santiago is part of the fourth generation of weavers in his family.
Omar, who learned to weave at age 8, is involved in all parts of the creation of his pieces—he carefully uses exclusively natural dyes, respecting the history and natural timing in each element. He develops ideas and weaves without a fixed pattern, following his experiences and emotions as they change.
An industrial engineer, he learned to be detailed and careful in his processes. Each rug is carefully considered to convey harmony and freedom; through the joining of warp and weft he searches for inspiration to create new possibilities and ways to do and see things. 
Omar has given presentations about his creative process across Mexico and the US, received the Alice Brown Memorial Scholarship from Weave a Real Peace, and has been featured in
Selvedge
. He is in charge of the design and production department at Fe y Lola Rugs and Textiles in Oaxaca, Mexico.
February 7, 2023 | Jane Stafford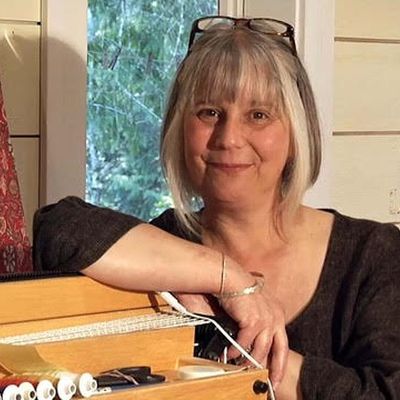 generously sponsored by Colour.Woven   
Jane Stafford began weaving in 1978 and attended the Banff School of Fine Arts from 1981-1988 where she explored both traditional weaving and 3-dimensional weaving. In the years that have followed, Jane has had the great fortune of earning a livelihood based on what she loves most—weaving and sharing her passion for excellence in cloth.
In earlier years Jane was a production weaver and workshop leader throughout Canada and the US. She has worked closely with Louet for 30 years creating their early instructional DVDs and consulting on the Louet Jane Loom. For many years, Jane taught exclusively in her studio on Salt Spring Island, offering 5-day retreats to weavers from all over the continent. In 2014 she was named Teacher of the Year by Handwoven magazine. 
In 2016 Jane decided to offer her foundational workshops to a broader student base by creating the JST Online Guild which has since grown into the Jane Stafford School of Weaving with thousands of students around the world. Each episode builds on the previous moving the weaver along a pathway of structural and artistic development. In January of 2023 they started their 7th season. 
---
February 14, 2023 | Carl Stewart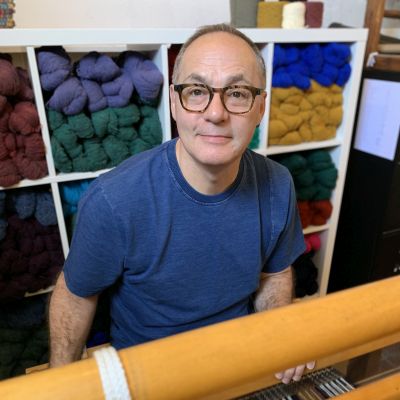 generously sponsored by Ottawa Valley Weavers & Spinners Guild    
Carl Stewart is a weaver living and working in Ottawa, Ontario, Canada. For more than 30 years his socially and politically engaged, and enraged, textiles have celebrated, memorialized, documented and commemorated the intimate, the fabulous, the egregious and the tragic. 
Born and raised on Prince Edward Island on Canada's east coast he attended the University of Prince Edward Island the Holland College School of Visual Arts in Charlottetown. 
Carl was a 2020 recipient of a Study Collection Scholarship from the Marshfield School of Weaving in Marshfield VT. He was the 2019 recipient of the Cultural Commentary and Social Change Grant from the Fiber Art Network for his project clò mòr. He was a visiting artist in the Master of Fine Arts Program at the University of Victoria in Victoria, British Columbia in 2019.  
His work has been presented exhibitions in galleries across Canada and in the United States the Mississippi Valley Textile Museum, Almonte ON; Schmidt Art Centre, Southwestern Illinois College, Belleville, Il; Gallery 101, Ottawa, ON; the Cambridge Art Galleries|Idea Exchange, Cambridge, ON; Victoria Arts Council, Victoria, BC; Little Berlin Collective, Philadelphia, PA; Ottawa Art Gallery, Ottawa, ON; Art Museum of the Americas, Washington, DC; Textile Museum of Canada, Toronto, ON; Leslie-Lohman Museum of Art, New York, NY.  
He has received professional grants from the Canada Council for the Arts, the City of Ottawa and the Ontario Arts Council. 
Carl's work hangs in the collections of the Canada Council Art Bank, the City of Ottawa, and the Leslie-Lohman Museum of Art in NY and the Ottawa Art Gallery. 
---
February 21, 2023 | Irene Heckel-Volpe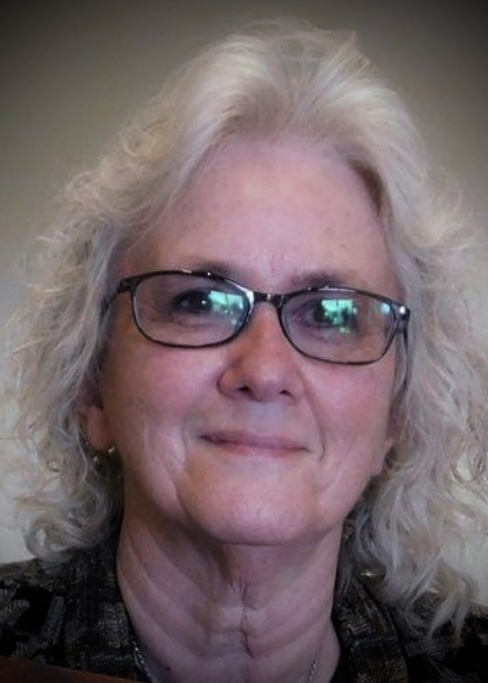 generously sponsored by Myrna Lindstrom 
Irene Heckel-Volpe has creating collectible soft sculpture since 1986. Starting with collectible mohair teddy bears, she has been designing and creating the teddies for over 30 years. They have been featured in several US magazines, including Teddy Bear and Friends and Teddy Bear Review and in several overseas publications, with an emphasis on some unique innovations and mixing of media.  
During the time that she was creating teddy bears, in 2002 Irene discovered the art of needle felting. The use of wool fibers to sculpt became part of the teddy bears also, but as time went on it became apparent that this new art form was going to become a very large part of Irene's creative process and she began to create sculptures that were beyond the teddy bears. She developed techniques that pushed her to continue designing and developing. Most of her work makes use of mixing her media. Needle felting itself was new to most people, so Irene was called on to demonstrate and educate at many shows. She has also developed needle felting classes which teach the how to, but also using imagination and technique to create everything from 3D sculpture to embellishment and using fiber to create 2D fiber paintings and shadow boxes to allow for deeper dimensional paintings. 
Irene is originally from Long Island, NY and relocated to the Asheville area in 2014, with her husband and her "fur-family". 
Irene teaches classes in the art of needle felting and has taught in many locations including Arrowmont School of Arts and Crafts (Gatlinburg TN) at Southeast Fiber Forum Association Fiber Forum, Tryon School of Arts and Crafts, SEFAA (Southeast Fiber Arts Alliance, Atlanta GA) as well as many other locations.  She also gives presentations on the art of needle felting. She is also a member of WNCFHG, Heritage Weavers and Fiber Arts of WNC, Local Cloth and the Go Figure Guild. 
Register for Irene Heckel-Volpe
---
February 28, 2023 | Mary Burgess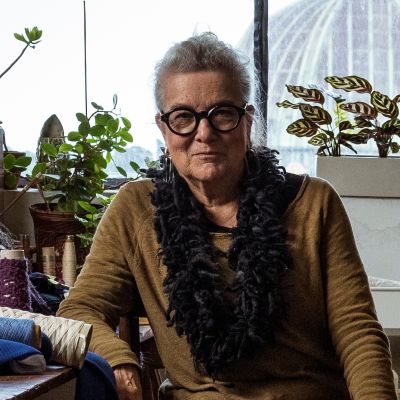 generously sponsored by Barbara Decker   
Mary Burgess is an Australian hand weaver with a focus on memory and mourning.  She runs the Woven Memories project from her studio in Melbourne. Mary has partnered with the Hong Kong University Social Work Department researching the impact of hand weaving on grief, been Artist in Residence in hospitals, and exhibited in Paris and Rome. She designs and weaves items to honour loved family members who have died. Mary uses the clothes of the person who has died.  She deconstructs these textiles and works with her clients to weave something that speaks of the life of the person into the future. Examples include cushions, baby blankets, bed spreads and scarves. There is a transformative process at work both in the material and psychological as new fabrics are created from cloth worn in a past life, encompassing experiences that can be held and contemplated without words.
The Handweavers Guild of America, Inc. is a 501(c)(3) nonprofit.
Our mission is to educate, support and inspire the fiber art community.