All under one roof, shop for fiber art supplies and original handcrafted goods while enjoying shows and demonstrations. Exhibitors showcase a wide array of yarns, books, and equipment, including specialty items usually only available online. Art and craft enthusiasts appreciate the selection of handmade goods exquisitely crafted by artisans such as baskets, jewelry and more.
The Marketplace is open 10:00 AM - 5:00 PM, Friday - Monday, July 24 - 27, 2020, with additional hours on Saturday from 7:00 PM - 9:00 PM.
Daily admission is included with the purchase of a CVP or visitors may purchase a Day Pass online or from the Registration Desk for $10. All active and retired military receive free admission with their military ID.
Be a Vendor
Since 1972 Convergence has proudly provided the premier venue for fiber vendors to showcase their new products and services for the international fiber art community. Be part of this grand fiber tradition and register to be a Vendor at the 2020 Convergence Fiber Art Marketplace. Download the Vendor Registration book today.
Marketplace Events and Activities
Community "Fun Weave"
Warped and waiting, place a few (or many) threads on the community tapestry loom. Feeling fidgety? Find a loom! Feeling lonely? Stop by and chat about weaving. Feeling creative? Dig through our baskets of wefts and make your mark. Do you have some spare odds and ends of threads that you would like to contribute? Bring them with you to weave into our community tapestry. A special thanks to John Colony for the loan of these looms. If you have so much fun you want to take one home, visit and talk with the friendly folks at Harrisville Design.
Silent Auction
Place your bid (or bids) on one of the many fiber goodies HGA has collected. The Silent Auction is open during Marketplace Hours and will close at 4:00 PM on Monday, July 27, 2020. All proceeds benefit HGA's Fiber Trust.
Sheep to Shawl Competition sponsored by Ply Magazine, Saturday 12:00 PM – 4:00 PM
An age-old craft comes to life as spinners and weavers compete for top honors. In the Sheep to Shawl competition teams compete to make a shawl step-by-step starting with washed fleece. Competitors will be spinning and weaving at a furious pace and at the conclusion all shawls will be removed from the looms and judged. Complete guidelines available online. Advance registration required, $25 per team.
Rag Rug Show & Tell, Saturday 4:00 PM – 5:00 PM
Organized by The Weaver's Friend 2, this show and tell is open to all who love and appreciate rag rug weaving. Bring your work to share with others.
Twilight Madness sponsored by Heddlecraft, Saturday 7:00 PM – 9:00 PM
The Marketplace opens late night for a special shopping experience. Take time to relax, shop, mingle and meet friends while finding the perfect yarn, the exact tool you have been seeking or discover something new to add to your fiber collection.
Shuttle Race, Saturday 7:30 PM
Competing for fun prizes, participants race their unique "shuttle craft" entries down Schacht Spindle Company's racetrack as the spectators applaud and cheer the fastest and most creative entries. Complete participant guidelines available online. Advance registration is encouraged.
Strut Your Stuff Informal Fashion Show sponsored by the American Kumihimo Society, Sunday 12:15 PM – 1:15 PM
All fiber enthusiasts, whether beginner or advanced, are invited to share their inspirational garments, wearable art, accessories for the home, and functional work. Participants are encouraged to model their latest wearable creation or to show their functional designs in this fun and supportive environment.
Thread Talks
Take the stage and share your fiber art idea, project, or experience. We are searching for creative makers who will inspire, surprise and delight the audience with their story in under 15 minutes. Public speaking experience is not required. Complete guidelines are available on our website.
Glimakra USA Demonstration Stage
Additional presentations will be added leading up to the Convergence conference.
Friday, July 24, 2020
Saturday July 25, 2020
Sunday, July 26, 2020
Monday, July 27, 2020
Confirmed Vendors
Click on Vendor Name to visit Website
Akerworks, Inc. (Knoxville, TN)
Allen B. Carr - Works in Wood (Palm Harbor, FL)
Ashford Wheels and Looms (New Zealand)
Athena Spinning (Chanute, KS)
AVL Looms (Chico, CA)
Buckmaster Family Farm (Mount Pleasant, TN)
Carol Leigh's Hillcreek Fiber Studio (Columbia, MO)
Claudia Hand Painted Yarns (Harrisonburg, VA)
Clemes and Clemes (Pinole, CA)
Cochenille Design Studio (Encinitas, CA)
Convergence Leader Sales
Crafty Housewife Yarns (Knoxville, TN)
Dan Tracy Designs, LLC (Cortland, NY)
The Dancing Goats (Sandoval, IL)
Eugene Textile Center (Eugene, OR)
Feel Good Felts (Newmarket, NH)
Giovanna Imperia Designs (Houston, TX)
Glimakra USA LLC (Eugene, OR)
Greenwood Fiberworks (Genola, UT)
Harrisville Designs (Harrisville, NH)
John C. Campbell Folk School (Brasstown, NC)
Kalabandar (Toronto, ON, Canada)
Lofty Fiber (Easley, SC)
Lone Star Loom Room (Houston, TX)
Lunatic Fringe Yarns (Fruitland, ID)
Melting Pot Fibers (Straburg, CO)
The Natural Twist, LLC (Albuquerque, NM)
Noti Yarns (Copperas Cove, TX)
Primitive Originals (Leesburg, GA)
Purrington Looms (Scott Depot, WV)
RedFish DyeWorks (Acton, CA)
Royalwood, Ltd. (Mansfield, OH)
Schiffer Publishing (Atglen, PA)
Serendipity Farm and Studio (Leesburg, FL)
Silk City Fibers (Carlstadt, NJ)
Smoky Mountain Spinnery (Gatlinburg, TN)
Susan's Fiber Shop (Columbus, WI)
Teresa Ruch Designs (Portland, OR)
Weaver House (Westminster, MD)
weaveSAORI (Belton, TX)
Wild Hair Studio (Crossville, TN)
Windmill Crest Farms (Seguin, TX)
The Woolgatherers (Fond du Lac, WI)
Yarn Barn of Kansas (Lawrence, KS)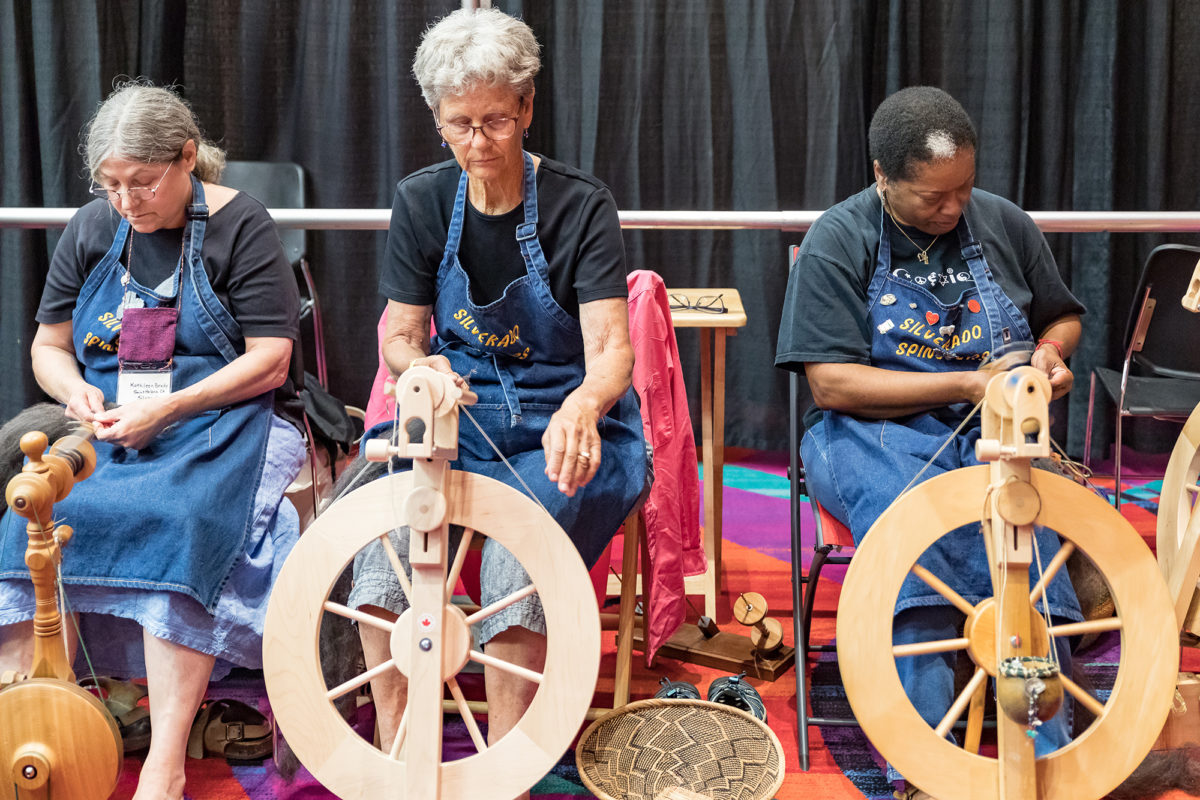 Twilight Madness Shopping Extravaganza
One night only! Join us for late night of shopping and special events on Saturday, July 25, 2020 from 7-9 PM.