Fashion Show and Invited Artists
Our most popular Convergence® event, this spectacular Fashion Show features wearable art selected from fiber artists from around the world.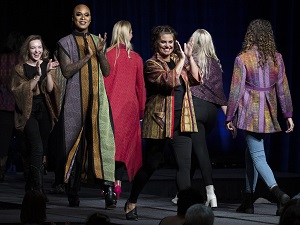 Sunflowers to Sunsets Fashion Show
Sponsored by Marcy Petrini and Terry Dwyer
Thursday, July 11, 2024
8:00 PM – 9:00 PM
Tickets: $81 or Free with CVP, cash bar available
Join HGA for our most popular Convergence® event, a spectacular Fashion Show featuring wearable art designed and handmade by fiber artists from around the world. Inspired by Sunflowers to Sunsets , this year's show encapsulates the essence of nature's perpetual beauty and showcases each artists' mastery in the use of color and texture to transcend boundaries and transform fiber into wearable art that evokes the vibrant splendor of (Kansas' iconic) blooming fields from dawn to dusk.
Invited Artists
Paula Bowers, a native of Boston/Cape Cod, Massachusetts, now resides in the mountains of Western North Carolina. She holds a bachelor's degree in art history from Wellesley College in Massachusetts. She studied oil painting at the Art Students League in NYC and painting/drawing at the School of the Museum of Fine Arts in Boston. After graduating Paula moved to New York City and studied Woven Design at the Fashion Institute of Technology. She then bought her 8-shaft Macomber loom which she still uses every day for the past 40+ years. Paula has been involved in the American Craft Council Fairs in Baltimore and Atlanta, She has been a member of the prestigious Southern Highland Craft Guild since 2008 and a member and then Chair of the Mentoring Committee for the Guild for the past 9 years.
Rhiannon Griego, a textile artist based in Santa Fe, New Mexico, has found harmonic resonance in the philosophies of Saori Zen Weaving, a tradition she studied and has practiced for the last 10 years. In its free form, wabi-sabi nature has moved her to create dimensional landscapes and embrace the beauty of imperfection within her textiles. Her work is moved by the spirit of the land and the deserts of the American Southwest, which her lineage hails. Her Mexican, Tohono O'odham & Spanish heritage provides artistic portals through which she communes with her ancestors to bring forth the legacy of textiles as timeless objects of art. From the language of plants as medicine to dyeing material, Rhiannon's reverence for the relationship between humans & land, soil & sky births the foundation to bring more beauty into the world through her art.
Liz Spear has been working with her hands since 1978 and has been a full-time craftsman in Western North Carolina since 1992. She is primarily a weaver of cloth and a maker of fine garments and accessories, as well as a line of exhibition-worthy coats, incorporating other fiber artists' cloth and colors. For several years, Liz has also been producing nuno-felt yardage, also made with silk fabrics dyed and/or printed by others; this nuno-felt collage fabric is cut up and combined with handwoven fabrics for exciting coats and jackets. Teaching and demonstrating for North Carolina's craft schools and craft organizations are an important part of her continuing to master her craft. Liz is a member of the Southern Highlands Craft Guild, and Piedmont Craftsmen, Inc. and has taught at Penland and Arrowmont Schools of Craft, John C. Campbell Folk School, and Appalachian Center for Craft, as well as presenting workshops for weaving and fiber guilds across the country.
Ticket Information
Ticket Information will be available Fall of 2023.