Volunteering is the perfect opportunity to meet fellow fiber artists while performing a valuable service. Volunteers are needed for a variety of tasks from assisting with the mounting and dismounting of exhibitions, to monitoring art exhibits.

Make Your Experience Exceptional, Be a Volunteer!
The Handweavers Guild of America, Inc.'s (HGA) 2022 Convergence® requires the assistance of many volunteers to produce a successful conference. There are a wide range of ways to be involved including: 
Steering Committee: Leadership roles that assist in the overall planning and execution of Convergence® - 

Download Description

 - Apply Today
Planning Committees: Regional support to prepare for Convergence® - Download Description - Apply Today
Mentors: Experienced Convergence® participants providing guidance and friendship to first-time Convergence® attendees
On-Site Volunteers: Assistants to ensure Convergence® programs and events run smoothly
More than 100 volunteers are needed to help make HGA's Convergence® conference a success. Volunteering is a great way to meet fellow fiber artists while providing a valuable service. Volunteers assist and support the following key areas of the conference:
On-Site Registration
Marketplace Hospitality
Art Exhibit Monitors
Ticket Takers
Special Events
Equipment Assistants
Set-Up and Tear-Down
And more…
HGA is currently accepting applications for Volunteers to serve on the Steering and Planning Committees.
Sign Up!
Steering Committee
Under the directive of the HGA Board and working with the HGA Staff, the Steering Committee leads the overall planning, implementation, and monitoring of all tasks for the Convergence® conference. The Steering Committee identifies opportunities and strategies for expanding Convergence® partnerships to include new entities and work activities. They will examine and recommend approaches to promote Convergence® activities both internally to existing members and externally. Each member of the committee is responsible for identifying, recruiting, screening and selecting qualified individuals to be members of their committee. Steering Committee Positions include:
Volunteer Coordinator
Special Events Coordinator
Local Publicity/Press Relations Coordinator
Tours Coordinator
Exhibits Coordinator
Download complete description of Steering Committee Positions
Apply Today
.
 Log in to your account to complete the Steering Committee Volunteer

Application by 
February 28, 2019.
Planning Committees
Volunteers serving on a Convergence Planning Committee report to either the HGA Program Director or a Convergence® Steering Committee Coordinator. Volunteer positions are available for the following Committees:
Tour Planning Committee
Exhibits Committee
Loom Rentals Committee
Gallery Guide Committee
Silent Auction Committee
Session Equipment Committee
Goody Bag Committee
Download complete description of Planning Committees
Apply Today
. Log in to your account to complete the Planning Committee Volunteer Application. Deadlines to participate vary based on the committee.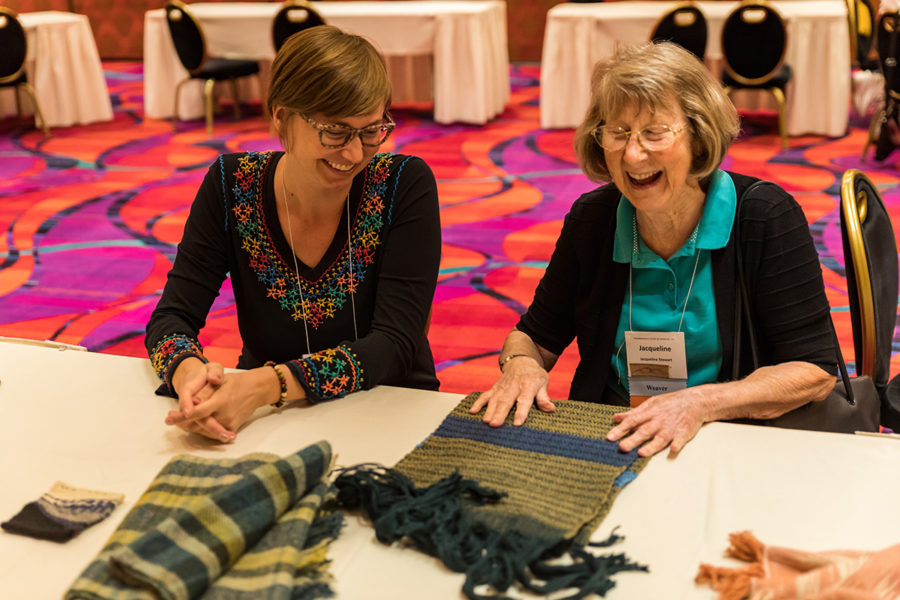 These are volunteer positions and monetary compensation is not provided.
HGA relies on this "in-kind" support in order to keep conference fees in line. For more information about Convergence®, Volunteering, and HGA, please visit our website. Review of applicants will begin immediately and will continue until the positions are filled. Handweavers Guild of America, Inc. is an Equal Opportunity Employer, and does not discriminate on the basis of Sex, Race, Religion, Age, Handicap or National Origin.