Each week the Handweavers Guild of America, Inc. (HGA) hosts Textiles & Tea, a conversation with some of the most respected fiber artists in the field today. In our 45-minute discussion we focus on their artwork and their creative journey. We allow 15 minutes at the end of our conversation for questions from the audience. Textiles & Tea will take place every Tuesday at 4:00 PM (ET) and is broadcast via Zoom and Facebook Live. These broadcasts are free to view and open to all.
2022 Schedule
Textiles & Tea takes place online every Tuesday, 4:00 - 5:00 PM ET. This program is supported through generous sponsorships and donations.
Click on the date for more information and to register (registration open through January).
Zoom allows up to 1,000 guests to view the program on the platform at any given time. This program is also shared Live on HGA's Facebook page. A link will be provided in the registration confirmation email.
Venancio Aragon weaves on an upright tension loom, a technology of Indigenous origin. He views his loom as a powerful connection to culture, identity, and history. His quest to learn and preserve his peoples' textile traditions have led to an ongoing journey of piecing together fragments of memory, oral histories, and archaeological materials into his work. His textiles draw on ancient techniques once developed for utilitarian needs and purposes. He fuses bold geometric designs with polychromatic saturation to reflect his individual and technical freedom of expression. He views his tapestries as a living record of the cultural survival of his people and as a testament to the current vitality of his heritage. Each tapestry he creates is unique not only to him but to the genre of Navajo textiles his work is descended from.
Deborah Silver
 graduated from the Cleveland Institute of Art as a Fiber major. Her works have been shown in many national juried exhibitions and have received numerous awards, including First Place and the award for excellence in Complex Weavers' "Complexity 2018" exhibit. In 2019, she published 
The Technique of Split-Shed Weaving
, a book for 4-shaft weavers illustrating the split-shed weaving process and the myriad structures that can be woven with this method. She is a 2015 recipient of a Cleveland Jewish Arts and Culture Fellowship Grant and the winner of a 2019 Ohio Arts Council Individual Excellence Award. Deborah teaches split-shed weaving workshops and continues to create handwoven art.
Deborah Chandler's adult life story seems complicated but think of it as a wheel. At the hub is weaving, and the rim is her rolling through life, first as Debbie Redding, then as Deborah Chandler. The spokes – that's where the good stuff is. They include all the following, and maybe more: shop owner, student, teacher, guild member, writer, editor and publisher, for- and non-profit administrator, production weaver, fair trade advocate, founder of quite a few projects, explorer. In her first 50 years she was based in Colorado more than anywhere else, then she moved to Guatemala, where she has been since the year 2000. She loves looms because they do not require electricity, and still does all her drafting on graph paper with a pencil. She's been called a Luddite more than once, but her resistance to technology does not go so far as trying to destroy it, rather she just leaves it to others. And hey – she has even learned to work with Zoom!
John Marshall is an American fiber artist specializing in natural dyes and the traditional Japanese techniques katazome (stencil dyeing) and tsutsugaki (cone drawing). He is internationally noted for his use of color and line to create truly one-of-a-kind art-to-wear, turning traditionally inspired aesthetics into contemporary treasures for daily life. As a teacher he is recognized for his ability to adapt traditional recipes and methods to suit local climates, resources, and temperaments – and for his ability to distill complex techniques into easy-to-understand steps.
Tabitha Arnold makes labor-intensive art. She studied painting at the Pennsylvania Academy of Fine Arts in Philadelphia, then transitioned into weaving and punch needle embroidery. Her meticulous, tactile tapestries speak to the radical past and ongoing struggle that threads all working people together. She's inspired by the history of the labor movement, as well as her own direct experiences as a worker, organizer and artist coming of age during a wave of unionization and class-consciousness. Arnold's textiles were recently featured in Jacobin Magazine, Hyperallergic, and on this year's issue covers of Dissent Magazine. She has completed residencies at Glen Foerd, Philadelphia and Cortex Frontal, Arraiolos, Portugal. In 2022, Arnold was selected for the American Craft Council's Emerging Artist Cohort. She now lives and works in Chattanooga, Tennessee.
Donna Foley Brush
 is a weaver, dyer and, for many years, a shepherd. Although she began her career working in the woods on a Forest Ecology project, a weaving class at a local college changed her trajectory. Continuing with her passion for working with plants, she embarked on a self-study of native dye plants. To get all the nuance and beauty of the natural dyes on her fiber she experimented with different breeds of sheep wool. Once she worked with Lincoln Longwool fiber, she knew she had found her breed. She raised registered Lincoln sheep for more than twenty-five years and the custom-spun yarn from their wool, along with natural dyes, are the foundation of her main work – weaving contemporary Southwest tapestries. She did contract weaving of rayon chenille scarves for Frittelli & Lockwood Textiles where she learned valuable tips on being a production weaver. Donna enjoys passing on her absolute passion for weaving and dyeing to her students, both young and old. For many years she ran the weaving studio at Camp Treetops in Lake Placid, NY. She also created a Fiber Arts curriculum for Paul Smiths College and she has taught at various conferences throughout the U.S. including the Intermountain Weaving Conference and Convergence®. She exhibits her work at art shows throughout the Southwest as well as at Wild West Weaving Gallery in Silver City, New Mexico.
Annie MacHale, at the age of seventeen, first discovered the inkle loom, sparking a lifelong love affair. She built her first loom in 1976 with the help of her dad and a library book. Since then, she's woven miles of bands including over 1,100 guitar straps. She loves to play with color and pattern and finds the inkle loom a very satisfying way to do this. She credits inkle weaving with bringing her many blessings in her life including a very excellent husband and an invitation to the White House. Annie is known to many through her blog, ASpinnerWeaver.com. The popularity of her patterns shared there has led to the 2019 publication of a book, In Celebration of Plain Weave: Color and Design Inspiration for Inkle Weavers. This was followed by another book in 2021, Three-Color Pickup for Inkle Weavers: A Modern Look at an Ancient Baltic-Style Technique in which she shares a rare, older Lithuanian technique which has fallen out of use. You can find her around the world wide web and on social media as ASpinnerWeaver, a name she comes by naturally, being born to Louie and Nancy Spinner. She has tried spinning yarn, but never really took to it.
November 22, 2022: Samantha Bittman
generously sponsored by Myrna Lindstrom
TBD
Be a Sponsor & Support Textiles & Tea
Through sponsorship you can reach new audiences and connect with the fiber community in their homes. We know from our Spinning & Weaving Week events that an average of 1,000 people viewed our videos either live or recorded. These numbers will only grow as our event grows in popularity.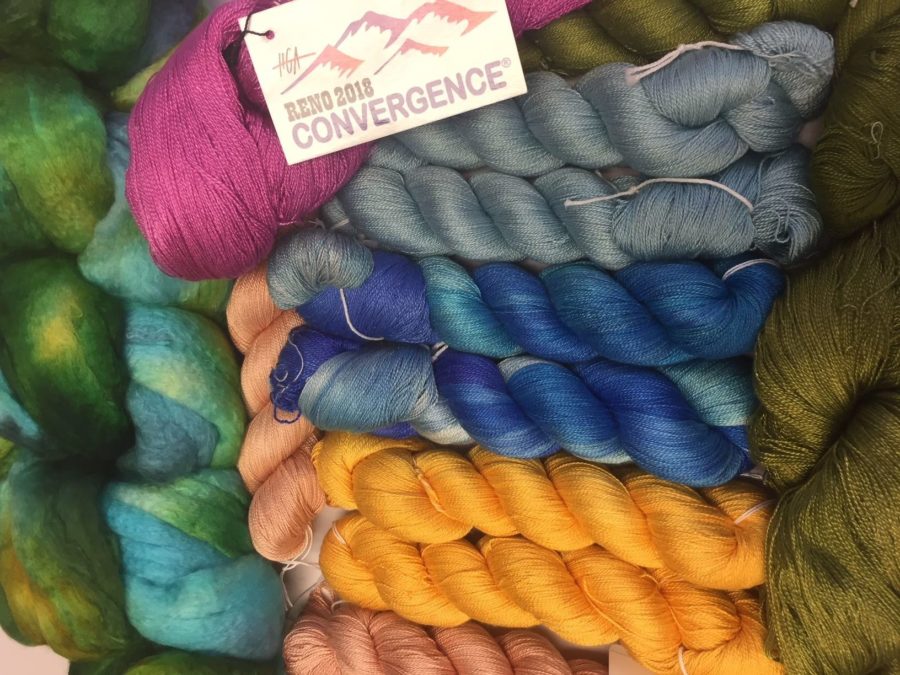 Sponsorship includes:
Recognition at the beginning and end of each broadcast (also to be recorded and shared on Facebook Live and HGA's YouTube channel)

Emails sent to HGA's mailing list of nearly 11,000 promoting the event with you listed as a sponsor and a link to your website

Identified as event sponsor on HGA's website and on the event listing on the HGA Fiber Art Calendar
We are offering introductory sponsorship packages at $150 per Textiles & Tea episode or four episodes for $500 (call HGA for 4-episode discount). Your sponsorship helps HGA to promote the fiber arts and support the artists who create. Will you be a sponsor?
How To Sponsor:
Purchase your sponsorship online or call (678) 730-0010.
For more information contact Kathi Grupp, HGA Advertising & Marketing Manager, at (470) 893-0556 or Advertising@WeaveSpinDye.org. Thank you for your consideration.
Previous Episodes
All episodes of Textiles & Tea are recorded and are available to be watched on HGA's Facebook page and YouTube channel. For more information on previous episodes, click the links below. 
The Handweavers Guild of America, Inc. is a 501(c)(3) nonprofit.
Our mission is to educate, support and inspire the fiber art community.