Convergence® is heading to the Heartland for 2024! HGA is excited to announce Convergence® will be July 11-17, 2024 in Wichita, Kansas at the Hyatt Regency Wichita and the Century II Performing Arts & Convention Center. Keep checking back to this website, watch for announcements in Shuttle Spindle & Dyepot and look for emails with more information about the 2024 Convergence® Wichita. Save the Date!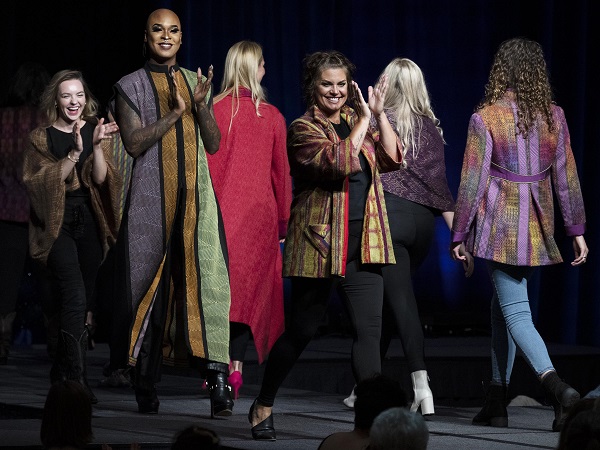 Welcome to the ultimate international fiber art experience: Handweavers Guild of America, Inc.'s (HGA) Convergence® conference! We've planned an exciting week of activities and events. Join fellow fiber art enthusiasts in the immersive Convergence® experience:
Feel inspired by exhibits featuring the work of artists from around the world
Indulge in seminars and workshops taught by prestigious and innovative leaders in the fiber arts
Build your community with old friends and new ones at the fashion show and various special events
Embark on a tour to private artist studios and behind-the-scenes textile experiences
Roam the fiber art marketplace shopping for the latest tools, materials, yarn, and more
Join us for the HGA's 2024 Convergence® in Wichita!
One of the best things about visiting Wichita is its central location. Upon arrival, visitors enjoy how easy it is to get from place to place, whether walking around downtown or driving in the city. With an easy five-to-10-minute drive from the airport to downtown, it's a luxury to arrive and easily get to where you want to go! Wichita is also easily accessible by car with junctions for I-35 and I-135, and U.S. Highway 81 and U.S. Highway 54/400.
Wichita's state-of-the-art airport Dwight D. Eisenhower National Airport (ICT) is serviced by all major air carriers.
Wichita's Q-Line offers free bus transportation to explore many of Wichita's popular districts and businesses, including more than 200 downtown shops, restaurants, and hotels.
Convergence® will be held at the Hyatt Regency Wichita and the Century II Performing Arts & Convention Center in Wichita, Kansas. These two facilities are connected.
New for 2024:
TBA: Stay tuned for updates
Registration Opens Fall 2023
Convergence® is organized and sponsored by the Handweavers Guild of America, Inc., (HGA) under the direction of HGA's Convergence® 2024 Steering Committee; with support from many volunteers, including guilds and businesses, who have given their time and talent, and with help from the City of Wichita.
Notice of Filming and Photography
When you enter a Handweavers Guild of America, Inc. (HGA) event or program, you enter an area where photography, audio, and video recording may occur. By entering the event premises, you consent to interview(s), photography, audio recording, video recording and its/their release, publication, exhibition, or reproduction to be used for news, web casts, promotional purposes, telecasts, advertising, inclusion on websites, social media, or any other purpose by HGA and its affiliates and representatives. Images, photos and/or videos may be used to promote similar HGA events in the future, highlight the event and exhibit the capabilities of HGA. You release HGA, its officers and employees, and each and all persons involved from any liability connected with the taking, recording, digitizing, or publication and use of interviews, photographs, computer images, video and/or or sound recordings. By entering the event premises, you waive all rights you may have to any claims for payment or royalties in connection with any use, exhibition, streaming, web casting,
televising, or other publication of these materials, regardless of the purpose or sponsoring of such use, exhibiting, broadcasting, web casting, or other publication irrespective of whether a fee for admission or sponsorship is charged. You also waive any right to inspect or approve any photo, video, or audio recording taken by HGA or the person or entity designated to do so by HGA. You have been fully informed of your consent, waiver of liability, and release before entering and attending Convergence®.