Spinning and Weaving Week
We're thrilled to offer activities and events for seven days devoted to celebrating spinning and weaving. Our programming will educate, inspire, and support the fiber art community.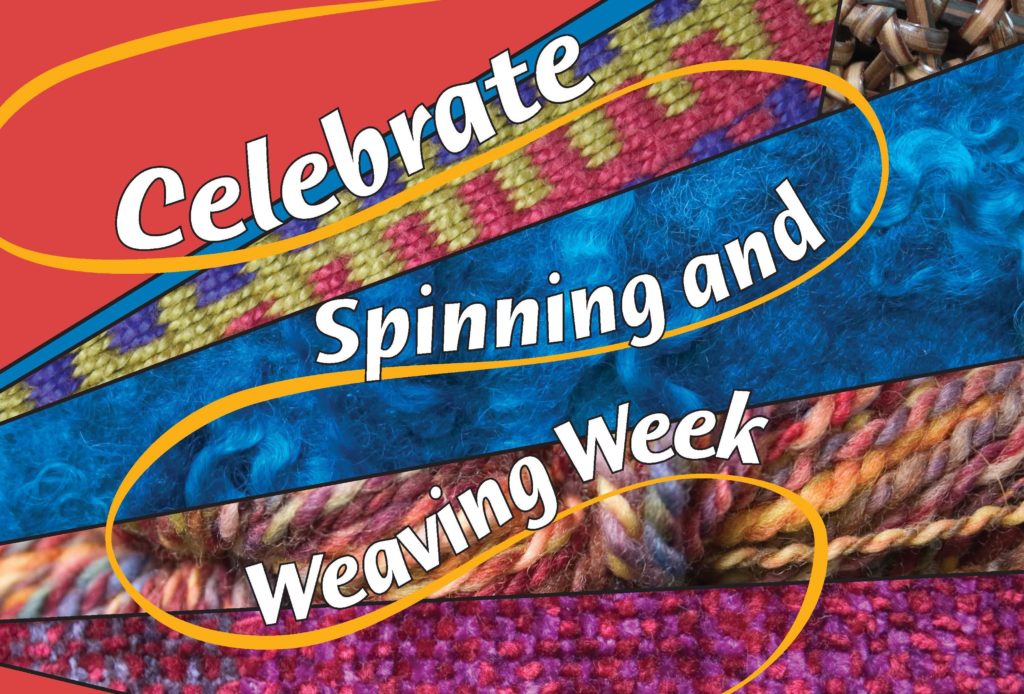 $  0 - HGA Student Members
$25 - HGA Members
$50 - Non-Members
In these one-hour virtual tours, artists will share how they utilize their space to create their craft and answer audience questions.
All sessions will be recorded and available on-demand to registered attendees for 90 days. Not a member? Join Today
Registration includes all 6 Studio Tours and all 7 days of Spinning & Weaving Week Activities except Art Sparks
$  0 - HGA Student Members
$25 - HGA Members
$50 - Non-Members
All Studio Tours take place at 4 p.m. (ET)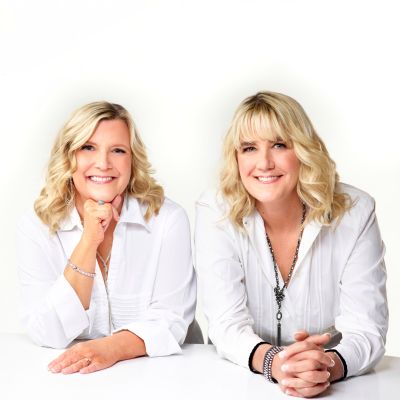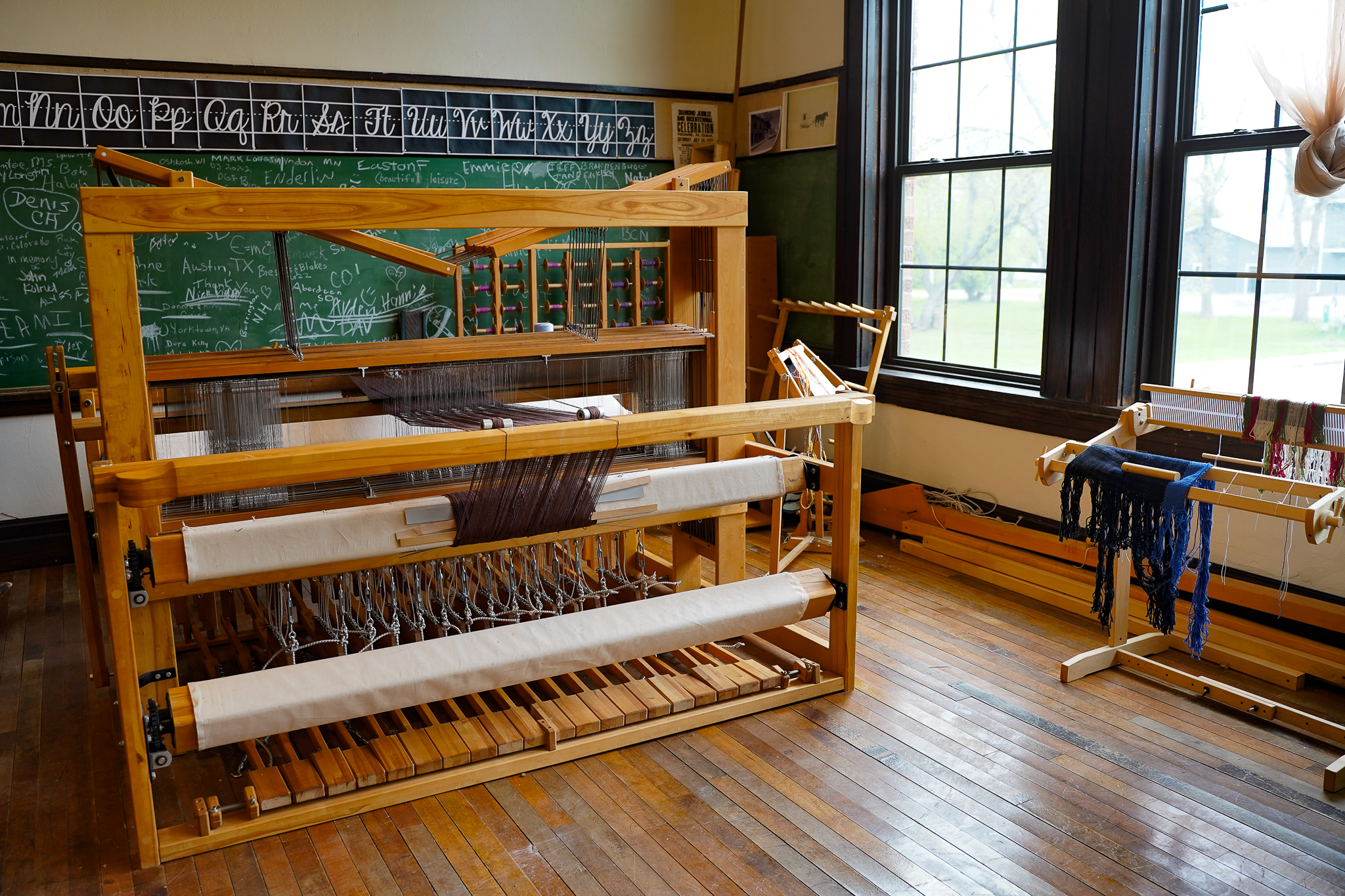 Monday, October 2, 2023 at 4 p.m. (ET)
Studio Tour: Nome Schoolhouse
Meet Teresa Perleberg and Chris Armbrust, the dynamic duo behind Shepherd Industries, LLC. Chris founded Dakota Fiber Mill in 2010, where she's been spinning all kinds of fibers into gorgeous yarn and roving, including her own line of yarn, Dakota Spun! Teresa started Bear Creek Felting in 2008 and specializes in creating adorable 3Dneedle-felted sculptures using wool from her 250 sheep. She also created an online felting Academy featuring video courses. These two talented women teamed up to purchase the abandoned Nome Schoolhouse in 2018 and spent 3 years turning it into a one-stop-shop for fiber lovers. The schoolhouse boasts a retail store, classrooms, fiber animals, a boutique hotel, an in-house chef, and even an event center! You can also tour the Dakota Fiber Mill. Also at the schoolhouse, the Nome Eweniversity nonprofit provides a hands-on, farm-to-needle experience that educates and inspires future makers, artists, and growers.
---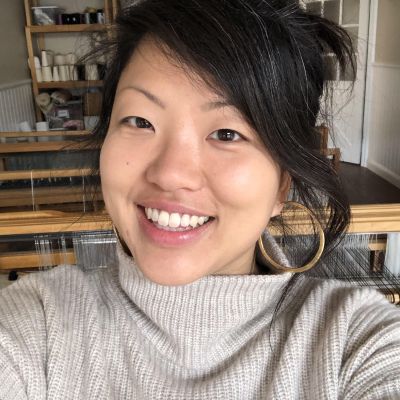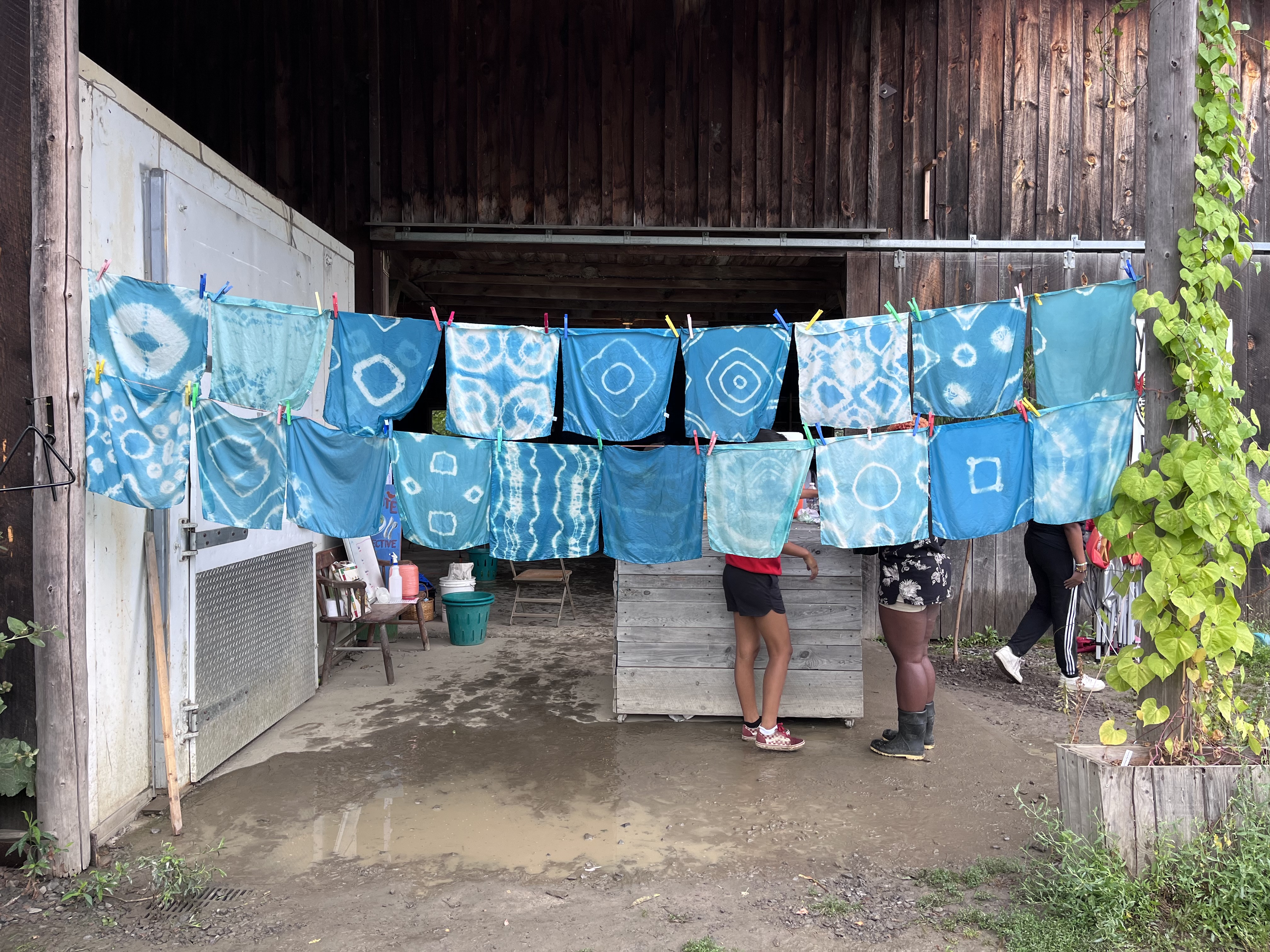 Wednesday, October 4, 2023 at 4 p.m. (ET)
Studio Tour: Sarah Gotowka
Sarah Gotowka is a practicing textile artist and instructor. She has been weaving since 2005 and has been growing natural dyes since 2010. She received her BFA in Fibers and Material Studies from The Cleveland Institute of Art in 2007, and her MFA in Fibers and Material Practices from Concordia University in Montreal in 2013. Since moving to the Ithaca area, she has taught at SUNY Cortland, Cornell University, Ithaca College, The Johnson Museum of Art, Wells College, and New Roots Charter School to name a few. Sarah currently advises in the BFA Socially Engaged Art degree track at Goddard College. Sarah is a Korean adoptee and formerly worked for the Adoptive and Foster Family Coalition of New York. There she mentored youth adoptees and advocated around trans-racial adoption issues. Weaving and dyeing have been a powerful healing tool in Sarah's journey of exploring her roots and connecting to her ancestral knowledge. 
---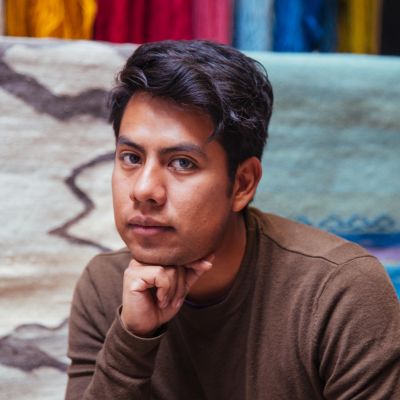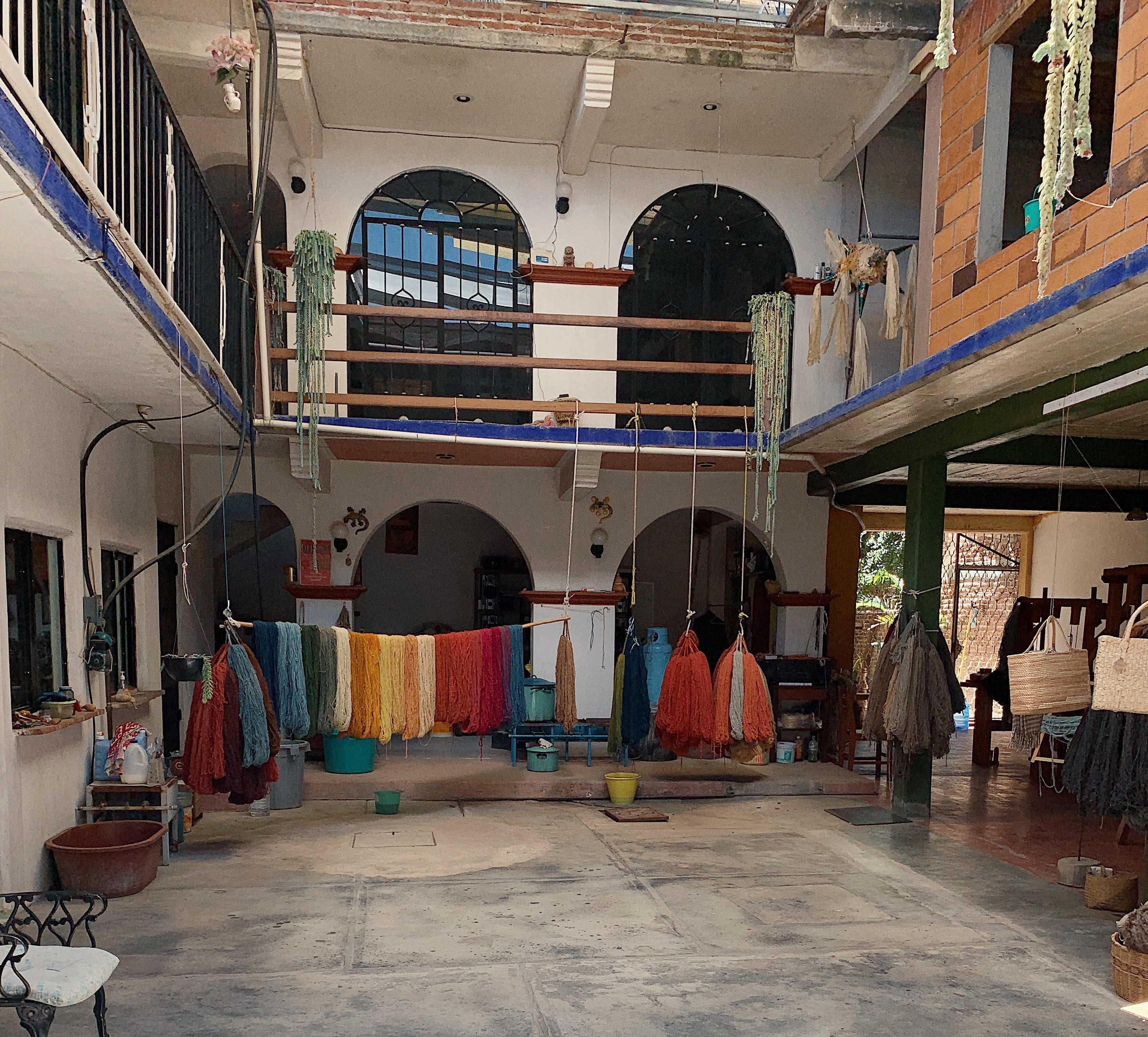 Thursday, October 5, 2023 at 4 p.m. (ET)
Studio Tour: Omar Chávez Santiago
Originally from Teotitlán del Valle, Oaxaca, Mexico, Omar Chávez Santiago is part of the fourth generation of weavers in his family. Omar, who learned to weave at age 8, is involved in all parts of the creation of his pieces—he carefully uses exclusively natural dyes, respecting the history and natural timing in each element. He develops ideas and weaves without a fixed pattern, following his experiences and emotions as they change. An industrial engineer, he learned to be detailed and careful in his processes. Each rug is carefully considered to convey harmony and freedom; through the joining of warp and weft he searches for inspiration to create new possibilities and ways to do and see things. Omar has given presentations about his creative process across Mexico and the US, received the Alice Brown Memorial Scholarship from Weave a Real Peace, and has been featured in Selvedge. He is in charge of the design and production department at Fe y Lola Rugs and Textiles in Oaxaca, Mexico.  
---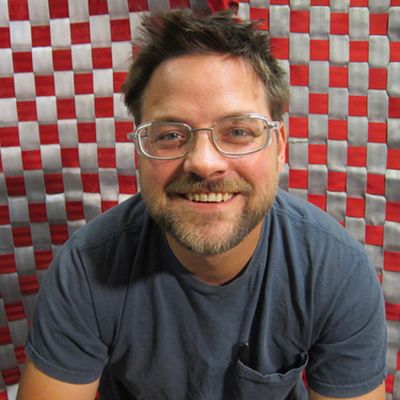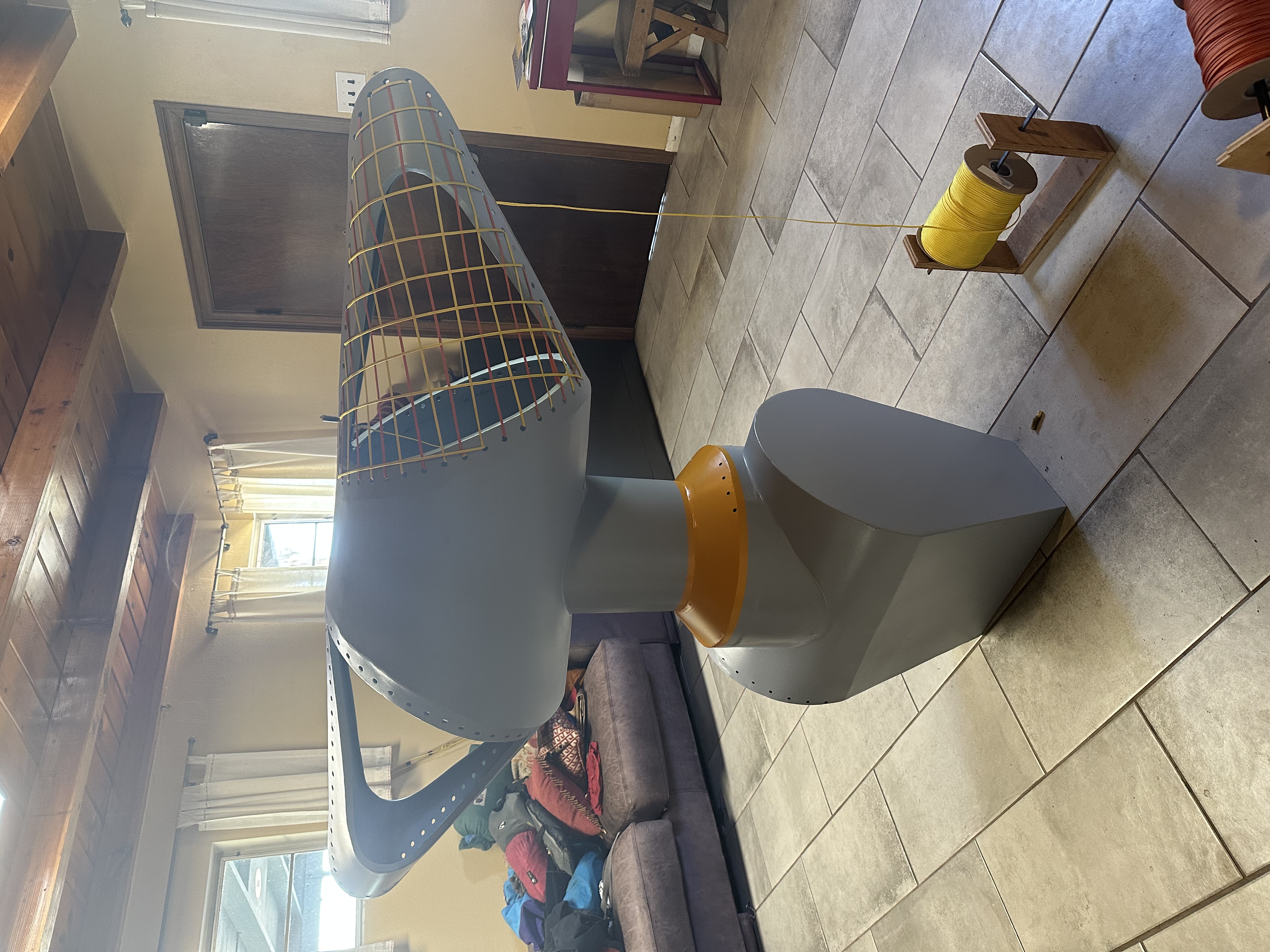 Friday, October 6, 2023 at 4 p.m. (ET)
Studio Tour: Bobby Zokaites
Bobby Zokaites is a U.S. based sculptor skilled in a variety of materials with a wealth of experience producing large-scale works for private and public spaces. He has been weaving as a solution for sculptural skins for almost two decades. Blurring the line between fine art, public sculpture, and collaborative practices, his work engages diverse audiences, humanizes public spaces, and often encourages participation with larger-than-life-sized artwork. Zokaites earned his BFA at New York College of Ceramics at Alfred University (2008) and his MFA in Sculpture at Arizona State University (2014). He recently completed two permanent public art projects in Arizona and one in Wailuku, Hawaii on the island of Maui. 
---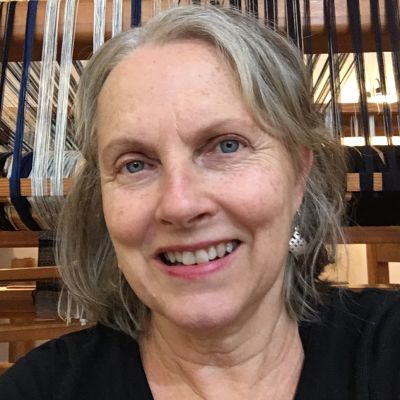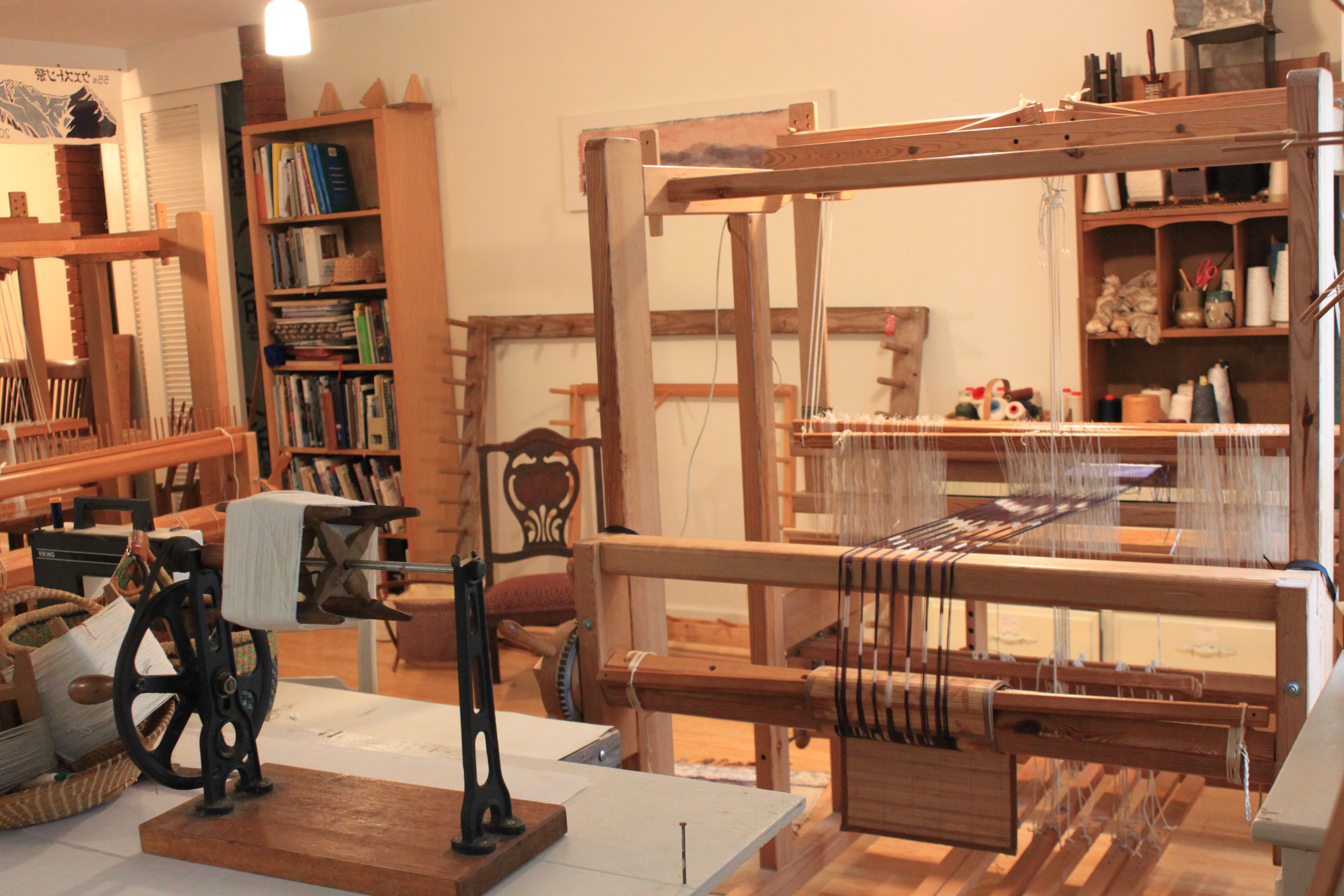 Saturday, October 7, 2023 at 4 p.m. (ET)
Studio Tour: Beth Ross Johnson
Beth Ross Johnson has been weaving since 1970. After learning to weave from students of Norman Kennedy, her interests turned to the textiles of Japan and she has had two extensive stays to study kasuri and sakiori there (and bought lots of fun equipment!). She received an MFA in textiles from Georgia State University and has taught weaving and art history as an adjunct instructor at many institutions. She is a regular instructor at the John C. Campbell Folk School and Penland School of Crafts. This fall she is teaching weaving at Appalachian State University. Current research projects include ikats from Europe and  weaving sashiko patterns. At present, she is weaving, writing, teaching and researching from her studio in Black Mountain, North Carolina. 
---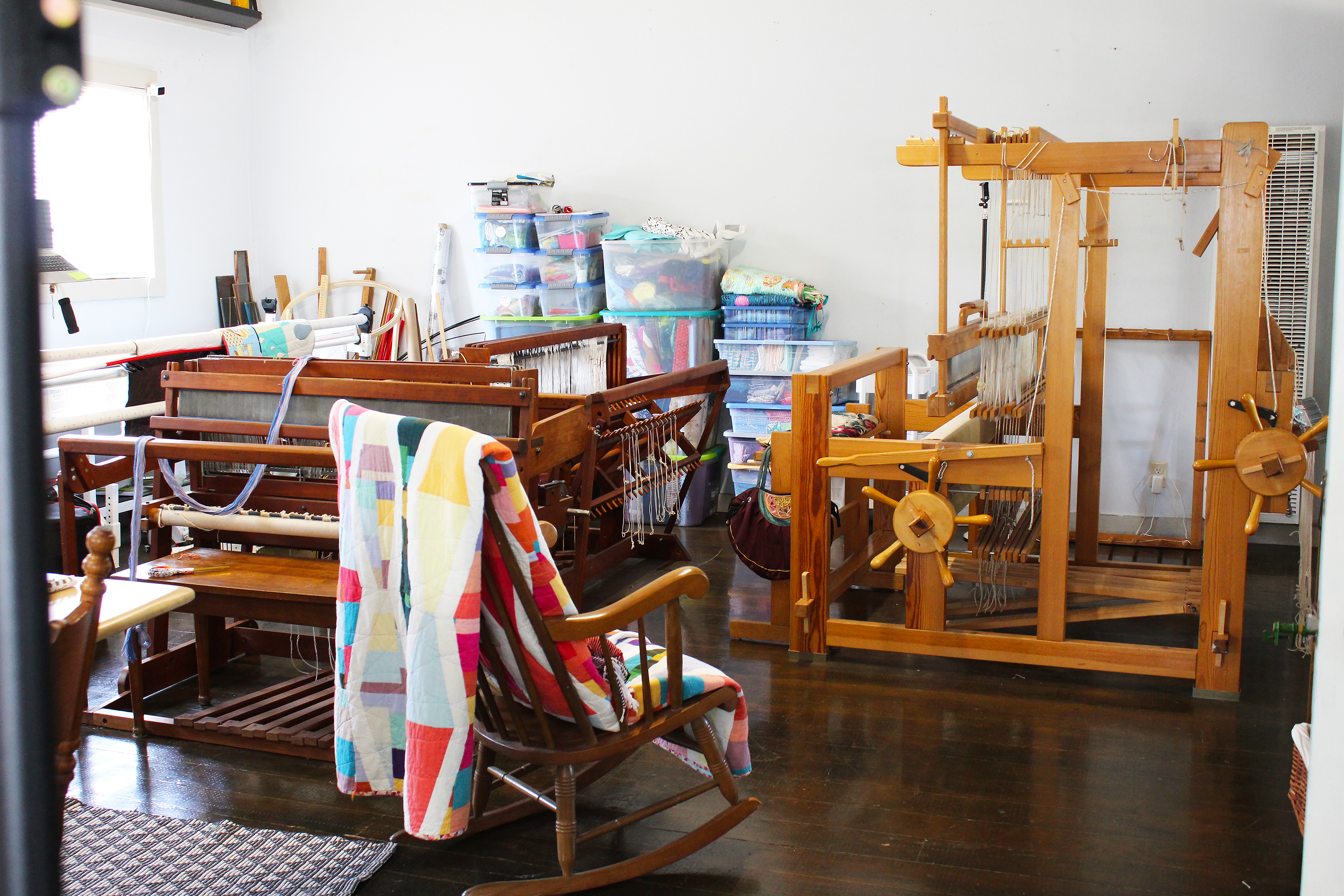 Sunday, October 8, 2023 at 4 p.m. (ET)
Studio Tour: Rebecca Shelly
Rebecca Shelly was trained in oil painting at the Maine College of Art. She fell in love with color, texture, and patterns. This work led her to Oregon. She pursued her Master of Fine Arts Degree in Contemporary Arts Practices at Portland State University. After school she sewed a shirt on her roommate's sewing machine. This led her down the path of sewing and fitting garments, piecing, and free-motion quilting. She began teaching at California State University, Chico, and Butte College in their Art Departments. In Spring 2020, she was given the Fiber Arts course to teach. She had to quickly learn how to weave, spin and natural dye. She did not realize that this would turn into her own business, Weft and Willow Fiber Arts Studio. Rebecca built this with seventeen looms, twelve sewing machines and six spinning wheels. She hosts workshops, a YouTube Channel, and opportunities for gathering.
---
Please continue to check back as we update the schedule. Spinning & Weaving Week is supported by generous contributions to HGA's Fiber Trust and the donation of our presenters' time, energy and expertise. HGA is an exempt organization as described in Section 501(c)(3) of the Internal Revenue Code; EIN #06-08661organization. In honor of this event, please consider a donation.
Sponsorship Opportunities
The Handweavers Guild of America, Inc.'s (HGA) Spinning & Weaving Week celebration is a 7-day digital extravaganza showcasing the fiber arts with vendor demonstrations and product talks, virtual studio tours, speakers, panels, and a fun fashion show. Each year HGA's Spinning & Weaving Week Celebration includes more than 40 hours of virtual programming over 7 days with more than 650 fiber enthusiasts participating either in real-time or by viewing recordings. The event will be presented virtually through Cvent with the ability to host an unlimited number of attendees. All sessions are recorded and available to be viewed at the convenience of registered attendees for up to 90 days. This event brings together fiber enthusiasts from across the world and provides opportunities to connect online and in the days following.
We understand that the dollars you spend need to bring the maximum benefit to your company. Sponsors are offered exclusive benefits and services based on their level of contribution. These packages are carefully structured at each level to provide the maximum visibility and the greatest mutual benefit but can be tailored to meet your organization's philanthropic or marketing objectives. For more information, please call (470) 893-0556 or email Advertising@WeaveSpinDye.org.
All Spinning & Weaving Week Sponsors will receive the following recognition in addition to the items listed in the packages:
Name recognition on HGA's webpage as Sponsor and logo and link to your website
Logo and name recognition in approximately *8,000 copies of Shuttle Spindle & Dyepot magazine
E-Blast sent to HGA's mailing list of more than 10,500 promoting your sponsorship
Post recognizing your sponsorship on HGA's Facebook page (10,600+ followers)
Post recognizing your sponsorship on HGA's Instagram account (4,700 followers)
Tax-deductible receipt letter for your donation less goods & services received
Continued publicity for 90 days after the week is over through recorded viewing of each event
Download Additional Resources
Sample Press Releases
Ideas for Activities