Spinning and Weaving Week
We're thrilled to offer activities and events for seven days devoted to celebrating spinning and weaving. Our virtual programming will educate, inspire, and support the fiber art community.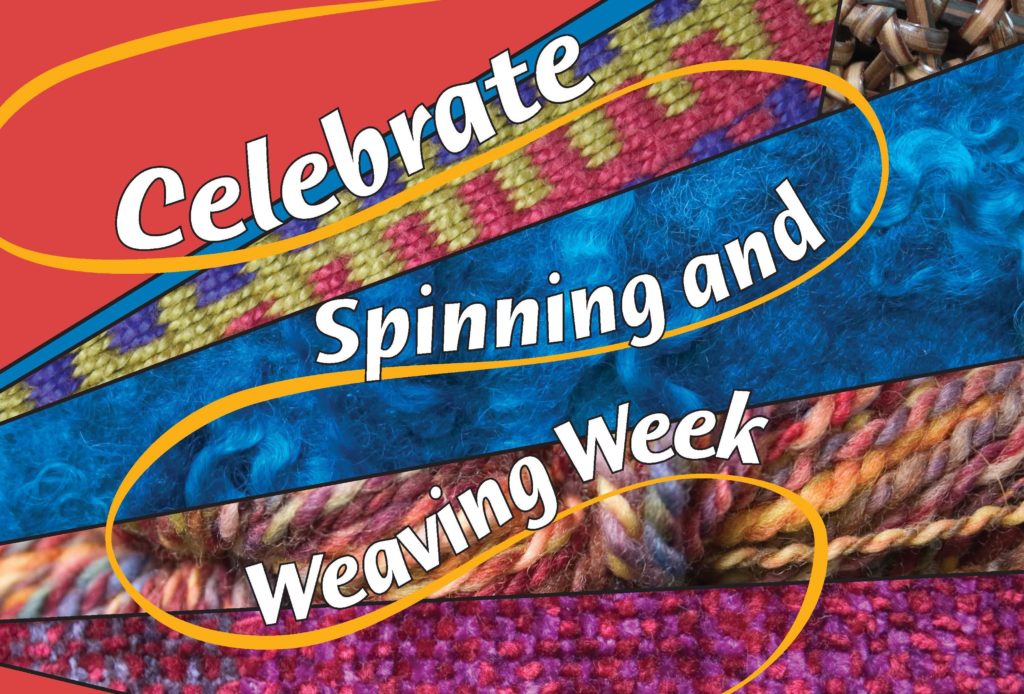 $  0 - HGA Student Members
$25 - HGA Members
$50 - Non-Members
Schedule and Registration
The registration fee includes access to all 7-days of programming including Marketplace LIVE, Thread Talks, Studio Tours, Panel Discussions, Fashion Show, Virtual Exhibit Hall, and Networking Opportunities.
New for 2022: Art Sparks! These Sessions will be sample classes or mini workshops covering a hyper-specific topic and are often used to introduce participants to a new art form, technique, or equipment. They might be repurposed content or a unit from a larger online course. Art Sparks Sessions will be offered in 30-minute and 1-hour segments. To register for an Art Sparks Session you must first register to attend Spinning & Weaving Week.
All sessions will be recorded and available on-demand to registered attendees for 90 days. Not a member? Join Today
$  0 - HGA Student Members
$25 - HGA Members
$50 - Non-Members
Make the Most of your Experience
All scheduled times are Eastern Time Zone (ET).
11:00 AM
-
12:00 PM
Juror's Talk: Symphony of the Mountains 2020 Mixed Media Exhibit (Viewing Party)
Juror Kathleen Curtis Wilson discusses the diversity in technique, theme, materials, technologies and color use on display and the exploratory approach taken by many of the artists chosen in this exhibit of mixed media artworks.
12:00 PM
-
1:00 PM
Visit the Exhibitors
1:00 PM
-
2:00 PM
Thread Talks: Stacey Harvey-Brown, KatyBeth Nolan, and Sally Orgren
Stacey Harvey-Brown will talk about exploring nature (including geology and bark) for textures that can be translated into many different dimensional weaving techniques, the working relationship with the washing machine as a partner to create serendipitous results, and using the resultant woven art to engage with a local community about their environment and the importance of our sense of touch.
KatyBeth Nolan will talk about blending hemp and wool to spin into a yarn that has surprising emergent qualities. Items made from hemp and wool yarn are more durable than wool alone and aren't felting.
Sally Orgren will talk about getting your story published and behind the scenes at Shuttle Spindle & Dyepot.
2:00 PM
-
2:30 PM
Marketplace LIVE: Christine Miller
Christine Miller will answer questions about her online Weaving with Wire Self-Paced Course and 3-Day Zoom Workshops. She will also share product examples and viewers will receive information about a 30% discount coupon.
2:00 PM
-
3:00 PM
Art Sparks: Karen Selk: In Search of Wild Silk - Exploring a Village Industry in the Jungles of India (1W-M01)
Wild silk is much more than the miraculous journey of metamorphosis from caterpillar to silken luxury.  It is tightly woven to an ancient living culture raising tasar, muga and eri silkworms in remote forests of central and eastern India.  Raising wild silkworms, reeling cocoons, spinning fibre and weaving silk cloth provides sustainable work while protecting the environment, and supporting communities.  Photos and stories captured from weavers, spinners and silkworm farmers over thirty years of research will transport you into their homes and villages to witness the love and dedication involved in each part of the process from soil to cloth. Learn More
3:00 PM
-
4:00 PM
Art Sparks: Dawn Edwards - Felt...An Ancient Material for Modern Creations (1W-M02)
The roots of felt-making lie deep in the history of humanity. Join Dawn as she presents images and information on felt history, and then moves on to more modern felt applications. Let's take a little tour of the world of felt-making, visiting several countries along the way, with none of the associated jet lag! We will embark on our journey visiting some of my friends from Australia, Ireland, and the Netherlands, to name a few, as well as a stop in my Plainwell, Michigan studio.   I will take questions at the end of the presentation. Learn More
4:00 PM
-
5:00 PM
Art Sparks: Becka Rahn - Opening an Etsy Shop (1W-M03)
Tips, techniques and words of wisdom from a long-time Etsy Seller about what it takes to run an Etsy shop. Take a behind-the-scenes tour of the technical side of running your shop, creating shipping profiles and what it takes to manage an online shop.  We'll also talk about search strategies and pitfalls to help your shop get started on the right foot. Learn More
5:00 PM
-
5:30 PM
Marketplace LIVE: Lofty Fiber
Meet LoftyFiber! We'll show you around our store and studio and talk about the products and services we provide.
6:00 PM
-
7:00 PM
Studio Tour: Emily Dvorin
Basketry and three-dimensional art are her true passions. Emily creates vessels out of just about everything, developing her own unique interpretation of the traditional craft of basket making. Learn More
7:00 PM
-
8:00 PM
Art Sparks: Jill Staubitz - Designing with Huck Lace (1M-M04)
(SOLD OUT - Wait List Available) It's easy to design Huck Texture and Huck Lace! After all, it is simply alternating those plain weave tabby picks, adding or subtracting along the way, to make those beautiful horizontal and vertical floats. Whether you are interested in designing with 4 shafts or 16 shafts, I will show you how easy it is to design Huck Lace! Learn More
7:00 PM
-
8:00 PM
Panel: Copyright - Protecting Your Work and Using the Work of Others
Moderated by Textile Exchange Coordinator, Penny Morgan, our panelists will discuss what to keep in mind when using others works and how to protect your own. Panelists include: Sally Orgren and Marcy Petrini
$  0 - HGA Student Members
$25 - HGA Members
$50 - Non-Members
$10/$30 - HGA Members
$15/$45 - Non-Members
Thread Talks
FREE - To Give a Thread Talk
Strut Your Stuff Informal Fashion Show
FREE - To Show Your Work
Please continue to check back as we update the schedule. Spinning & Weaving Week is supported by generous contributions to HGA's Fiber Trust and the donation of our presenters' time, energy and expertise. HGA is an exempt organization as described in Section 501(c)(3) of the Internal Revenue Code; EIN #06-08661organization. In honor of this event, please consider a donation.
Sponsorship Opportunities
Be part of HGA's 7-day celebration. This digital extravaganza showcases the fiber arts with vendor demonstrations and product talks, virtual studio tours, speakers, panels, and a fun fashion show bringing together fiber enthusiasts from across the world while providing opportunities to connect online and in the days following. All events are presented over digitally through Cvent with the ability to host an unlimited number of attendees. The 2020 inaugural event included more than 40 hours of programming over 7 days. We anticipate 1,000 fiber enthusiasts will attend HGA's Spinning & Weaving Week either in real time or by viewing recordings.
Contributions help extend HGA's programming to more than 10,000 fiber artists and art enthusiasts through our various programs and sustains our programs at their highest level of artistic and educational excellence.
We understand that the dollars you spend need to bring the maximum benefit to your company. Corporate sponsors are offered exclusive benefits and services based on their level of contribution. Our packages are carefully structured at each level to provide the maximum visibility and the greatest mutual benefit but can be tailored to meet your organization's philanthropic or marketing objectives. For more information, please call (678) 730-0010 or email HGA@WeaveSpinDye.org. Register to be a Sponsor or Download Sponsorship Packages
All Spinning & Weaving Week Sponsors will receive the following recognition in addition to the items listed in the packages:
Name recognition on HGA's webpage as Sponsor and logo and link to your website
Logo and name recognition in approximately *8,000 copies of Shuttle Spindle & Dyepot magazine
E-Blast sent to HGA's mailing list of more than 10,000 promoting your sponsorship
Post recognizing your sponsorship on HGA's Facebook page (8,300+ followers)
Tweet recognizing your sponsorship from HGA's Twitter account (1,300 followers)
Post recognizing your sponsorship on HGA's Instagram account (3,100 followers)
Continued publicity for 90 days after the week is over through recorded viewing of each event
Download Additional Resources
Sample Press Releases
Ideas for Activities